We're putting more sustainable materials at the centre of our product ranges.
Through the materials we choose for our own brand products, we want to protect the planet and give our customers sustainable choices. That means providing options which are manufactured considering waste, water usage and climate impact. One tool we use for this is Wraps Textile 2030 Improvement Actions to reduce our water and carbon footprint.
We're committed to Wraps Textile 2030 targets across new own brand product, to reduce our greenhouse gas footprint by 50% and reduce our water footprint by 30%, as well as progress our circularity roadmap.
We've partnered with Jeanologia to reduce the environmental impact of manufacturing our own brand denim products through an innovative process that reduces energy and water consumption and removes hazardous chemicals. We're also increasing our ranges that include more sustainable cotton, with 75% of cotton we use now coming through the Better Cotton Initiative (BCI). And we've lowered the impact of our school-uniform range by introducing recycled polyester into the main lines.
For our home products, we've enhanced the sustainability of our timber ranges, and we work with the Forest Stewardship Council (FSC) and the Programme for the Endorsement of Forest Certification (PEFC). We continue to use BCI cotton in our home ranges and have started to introduce recycled polyester.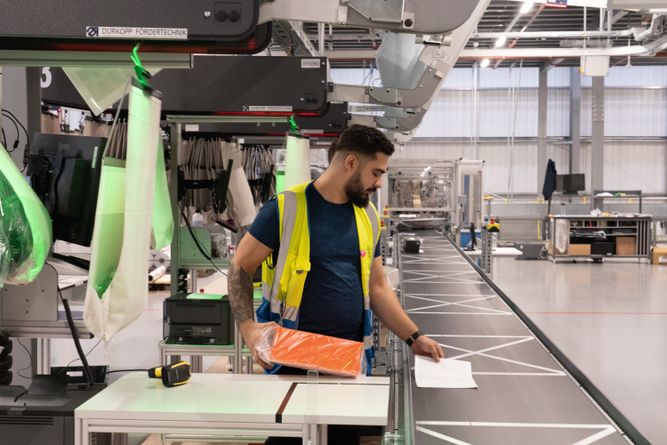 75%
of own brand fashion and home product will use more sustainable raw materials by 2025
2023
Sustainability training for all retail colleagues to enable more informed purchasing decisions by June 2023
2025
Achieve 100%-FSC timber in our own brand home products by 2025
75% of cotton used in our own brand fashion ranges now comes through the Better Cotton Initiative (BCI
Reduced the energy and water required to manufacture our own brand denim products through our partnership with Jeanologia
Developed five-year sustainability strategies for our fashion and home categories
Did you know
We're reducing the risk of sourcing from ancient and endangered forests through our partnership with Canopy Planet.
Did you know
Better Cotton is grown in a way that protects and restores the environment, while also improving farmers' livelihoods. That's why we use it.
Did you know
We're aiming to introduce 100% more sustainable cotton and 100% FSC timber into our own brand products by 2025.