We're putting sustainable materials at the centre of our product ranges.
Through the materials we choose for our own brand products, we want to protect the planet and give our customers sustainable choices. That means providing options which are manufactured considering waste, water usage and climate impact.
90% of the cotton we use now comes through the Better Cotton Initiative. Meanwhile, in 2021 we partnered with Jeanologia, an eco-efficient production specialist, to work with our factories to reduce the environmental impact that comes from manufacturing denim products. We have also introduced recycled polyester across a number of our ranges.
We will continue to launch new ranges of products using more sustainable raw materials, such as recycled or organic cotton and Forest Stewardship Council (FSC) timber, and implement training to educate our product teams on sustainable raw materials. We will also continue working with our branded partners to establish their sustainability credentials, and tackle social and environmental risks.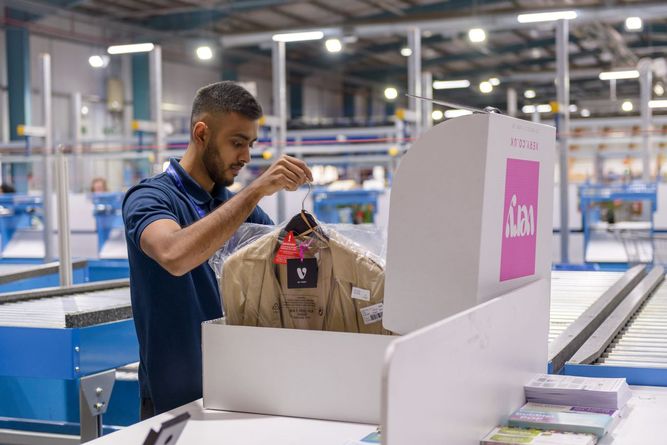 75%
of own brand fashion and home product will use sustainable raw materials by 2025
2025
Sustainability training for all retail colleagues to enable more informed purchasing decisions by June 2025
40%
Achieve 40% compliance to 'The Very Basics' among our branded fashion partners by June 2022
Introduced recycled polyester into core lines of our high-selling school uniform range.
Worked with Canopy Planet to create a forest protection policy.
Began reducing the energy and water required to manufacture our denim products through our partnership with Jeanologia.
Started a five-year plan to reach 100% BCI cotton in our ranges.
Did you know
We're reducing the risk of sourcing from ancient and endangered forests through our partnership with Canopy Planet.
Did you know
Better Cotton is grown in a way that protects and restores the environment, while also improving farmers' livelihoods. That's why we use it.
Did you know
We're aiming to introduce 100% more sustainable cotton and 100% FSC timber into our own brand products by 2025.