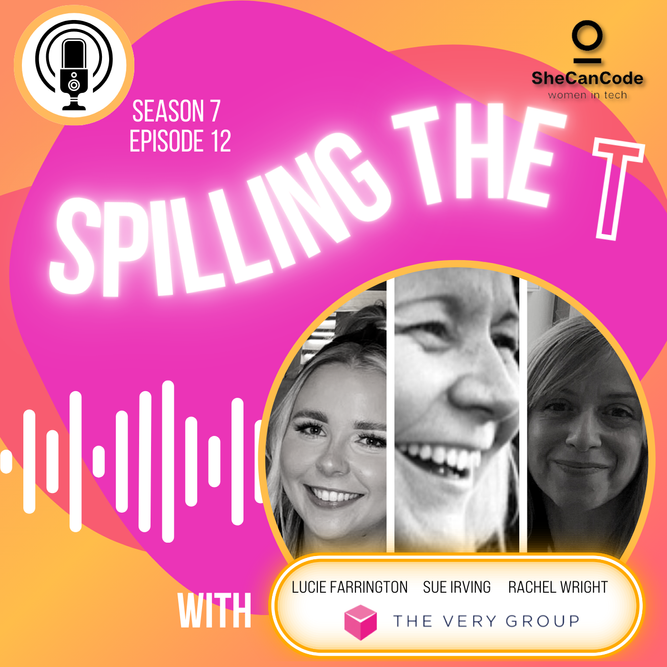 Media
Very's UX experts talk digital accessibility in SheCanCode's latest podcast
October 24, 2023
What is accessibility in web design, and why is it so important? That's the topic up for discussion in SheCanCode's latest 'Spilling the T' podcast, with special guests Sue Irving, Rachel Wright and Lucie Farrington from The Very Group's UX (user experience) team.
"It's really important how we frame what we mean by accessibility", says Sue, senior UX designer. "It's a way of thinking about how we build our digital products – things like our website, our app and other services – and how we support flexible interactions with different user needs, that are permanent, temporary or situational."
The transformation of Very's ecommerce platform is well underway. Accessibility and the creation of an inclusive customer journey is being considered at every stage of development, as Very works towards AA compliance with the internationally recognised Web Content Accessibility Guidelines.
Very is also partnering with digital accessibility platform Fable to undertake research with participants who have a wide range of access needs and use different assistive technologies, creating actionable insight. Rachel, senior UX researcher, says: "Although there are guidelines in place, when you actually witness somebody going through a journey, [you see that] they've all got different requirements, and they may be faced with different problems. It brings those issues to life."
In early 2023, Very introduced a new UX design system which is used by the retailer's content creators, designers and developers. Called Fuse, the system looks at every element of Very's app and website - things like logos, buttons and navigation structures - and defines rules for how they should look and behave.
Lucie, UX researcher, says: "Accessibility isn't just down to an individual or one team. We've got a design system; basically, a collection of reusable components, guided by clear standards, that can be assembled together to build any number of applications or websites. Accessibility is at the forefront of our design system."
SheCanCode is a female-focused global career platform that provides advice, tools, events, and jobs to support and inspire women to succeed in their tech careers. The organisation's 'Spilling the T' podcast offers conversations with top female voices in the tech sector.
You can listen to the podcast in full here.
.