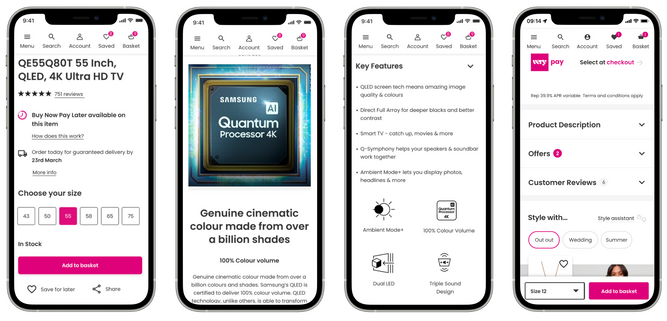 Media
The Very Group announces plans to enhance customer experience with enriched product information
August 4, 2022
Very will partner with global PXM vendor Akeneo
Rich product information will improve shopping experience for customers
New platform will allow products to be added to Very site in less than one minute
The Very Group, which operates digital retailer Very, has announced a new partnership with leading global product experience management (PXM) vendor Akeneo, as part of an ongoing tech transformation to optimise customer experience and modernise its tech stack.
Using Akeneo's PXM platform, Very will provide customers with rich product information – such as digital media, technical specifications and enhanced product details – to create a better shopping experience. Customers will be helped in their buying decisions by tailored and category-specific product information, for example highlighting different features for beauty products than for electrical goods.
The platform will allow new products to be added to site in less than a minute, increasing speed to market and allowing the Very team to focus on data quality, enrichment and consistency, while enabling suppliers' product information to be automatically uploaded to the Very site.
The move is the latest milestone in Very's multi-year tech investment programme, and follows the ongoing transformation of its ecommerce platform through a partnership with commercetools, personalised size and fit guidance provided by working with True Fit and the creation of enriched, engaging content – like editorial pages and marketing content – by partnering with Amplience.
Very will continue momentum with further technology and talent investments imminently, supporting the modernisation of its tech stack towards a microservices-based, API-first, cloud-native, and headless architecture (MACH). This will allow the retailer to deliver customer experience changes more frequently and faster than ever before.
Matt Grest, chief information officer at The Very Group, said: "Our tech transformation is already delivering fantastic results for our customers and our business, and we're excited to take another big step by partnering with Akeneo. Better, richer product content will help us continue taking customer experience to the next level, including tailoring the experience of shopping different categories, and help us drive efficiency by streamlining internal processes."
James Barlow, regional director UK & IRL at Akeneo, commented: "The Very Group has always been a future-forward retailer that puts customer-centricity front and centre. And its commitment to digitally transforming its business lies at the heart of delivering exceptional online shopping experiences for its customers. With unified product data and enriched product information, we're thrilled to have been able to support Very in its efforts to enhance customer experience, all while improving operational efficiencies and speed to market."
In March 2022, Akeneo became a certified member of the MACH Alliance, a group of independent tech companies which champion open, best-of-breed technology ecosystems. Very technology partners commercetools and Amplience are also accredited.
Contact information
Media relations
Ashley Muldoon (The Very Group) | ashley.muldoon@theverygroup.com | 07523 044 507
Sarah Cole (Akeneo) | sarah.cole@fieldworksmarketing.co.uk | 07872 884 002
Notes to editors
With annual revenue of £2.3bn, The Very Group is a unique digital business that combines online retail and flexible payments. Our digital retail brands, Very and Littlewoods, helps to bring 2,000 desirable labels within easy reach of more customers.
Our team of passionate people has a shared purpose: making good things easily accessible to more people, and we're here for the millions of online shoppers across the UK and Ireland.
Across electrical, home, fashion and more, we sell everything our 4.8 million customers could need, except food. And our flexible payment options, which are provided responsibly via our Very Pay platform and regulated by the Financial Conduct Authority, help our customers manage their household budgets.
We have over a hundred years of history behind us, but at our heart there is a passion for change – to constantly improve what we do, to innovate with data and technology at our core and to be the best possible place to work.
For more information, follow us on LinkedIn, Twitter and Instagram.