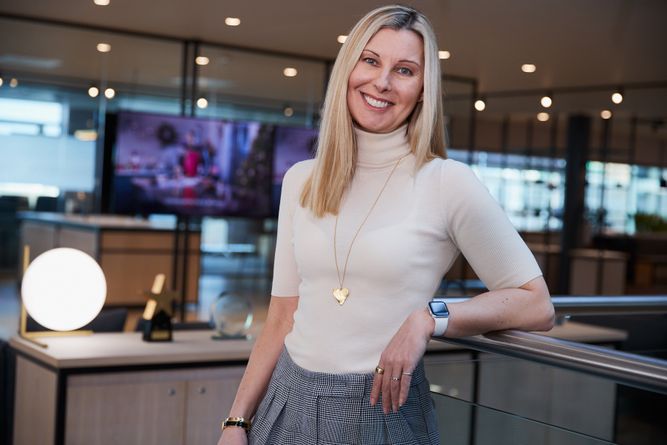 Media
Five ways we're making Very a great place to work with CPO Sarah Willett
July 12, 2022
For millions of people with desk-based jobs, the concept of being 'at work' has changed forever because of the pandemic. What people want from their job and their employer has shifted and continues to evolve. At Very, our ways of working are evolving too.
I was so proud to see that recognised when we won Best Place to Work at the Retail Week Awards recently. This was the culmination of years of work by teams from right across the business, but especially our people, tech and facilities teams, to develop the right setting, ways of working and culture to support our teammates, customers and business.
Here's my take on five of the most important ways we're making Very a great place to work in 2022 and beyond.
Hybrid working
With no quotas on time in the office or at home, our teammates make the working week work for them. Everyone chooses how and where they work to best serve our customers, supported by a £2 million investment in technology, processes, and transforming our offices to boost collaboration, community and culture. Our digital playbook is helping us get the most out of hybrid working with guides, videos, podcasts and supporting learning. However, hybrid working is about flexibility and what's right for today won't necessarily be right for tomorrow – that's why we must be open to change and continually learn.
Prioritising wellbeing
We believe that great work happens when you feel great. Our people have access to the world-renowned Ripple Effect programme from Dr Greg Wells and we also offer access to free wellbeing support via our membership of RetailTRUST. Everyone is encouraged to step away from their screens during our daily meeting-free hour and we've made meetings 25 or 50 minutes long so there's always time for a breather.
Listening to our people
We think this is more important than ever as we adjust to hybrid working. Through our engagement programme, Voice, teammates share views on themes like career progression, management support, recognition, wellbeing and diversity and inclusion. Through Voice, we're also collecting demographic data to help us become an even more inclusive workplace by 2025, where everyone feels welcomed, represented and valued.
Building careers and belonging
We want to empower our people to build a career as unique as they are. Inspiring resources, like our 'dreamsetting' module, help teammates own their career goals and development. We've invested in resources to support our people managers with building confidence and exploring their strengths and purpose. And our leadership development programme, created with an expert psychologist, has helped our most senior leaders create trust, build even better teams and encourage inclusion.
More broadly, we always try to engender two-way communication with live Q&A sessions where we don't shy away from tough questions during our monthly company-wide 'all hands' meeting. And we find moments to laugh together and have fun through our charity activity and company celebrations, including some occasional help from our celebrity friends!
Getting to know our customers
We help millions of families on a budget access the things they need to live life well. During the pandemic, we began following the lives of four families through video, interactive sessions and a resource library. Hearing how our families are feeling and seeing snippets of their daily lives helps us all better understand the role we play in supporting our core customers. This vital work helps our people stay connected to - and be inspired by - our purpose.
We're hiring! Head to our careers site to find out how you could become part of the Very team.