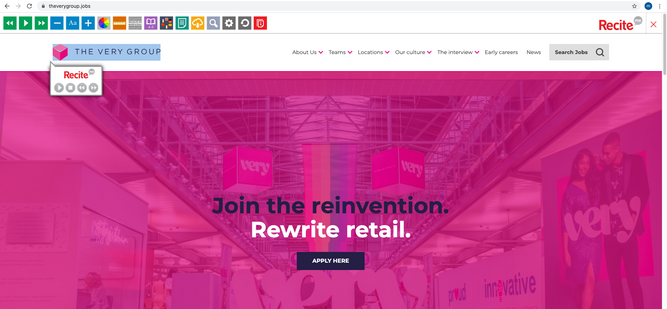 Media
Very targets more inclusive careers site with new technology
July 13, 2021
The Very Group, operator of Very.co.uk and Littlewoods.com, has added innovative new software to its careers website to make it more accessible and inclusive.
Visitors to the business' jobs site can now click a special icon and, using Recite Me's web accessibility and language toolbar, access functions such as converting text into audio, downloading audio as an MP3 file to listen later, changing font sizes and colours, customising background colours, translating text into over 100 languages, and an integrated dictionary and thesaurus.
The new technology helps one in five people in the UK who have a disability, including those with common conditions like sight loss and dyslexia, to access the site in a way that suits them. In addition, the site meets the needs of one in five people in the UK who don't speak English as their first language.
Sean Allen, Very's head of talent, said: "We want to attract the best talent. Allowing everyone who visits our careers site to use it the way we intended is a vital part of our mission. That's why we've worked with Recite Me to make our website digitally inclusive. It's the right thing to do and the best decision for our business."
Visit our careers site to explore our jobs and use Recite Me.