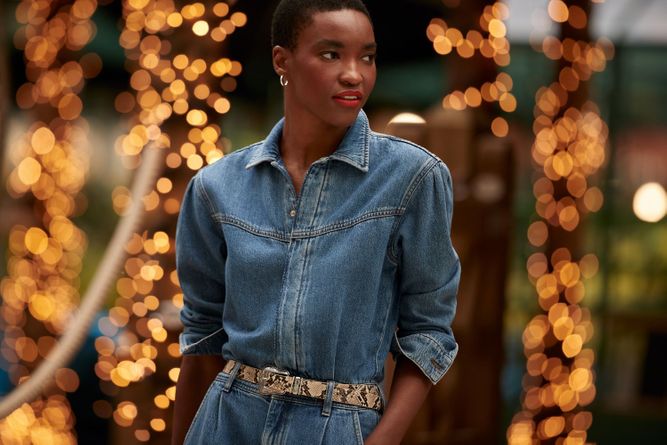 Media
Very sales and new customer acquisition drive record revenue and continued profit growth for The Very Group
October 19, 2021
Very retail sales up 24.9% to £1,535.6m, driving 13% Group revenue growth to a record £2,317.1m
Very customers increased 12.4% to 3.82m, boosting Group customers by 7.6% to 4.82m
Group profit before tax of £81.7m, up 68.8% on the prior year, reflecting increased Very retail sales and improved cost management
The Group finished the year in strong financial health, with underlying operating cash flow of £245m
Significant customer experience improvements including:

Our AI-powered chatbot, Very Assistant, now handles 268,000 queries monthly after being added to the Very website, making it our largest customer service channel
Extending order cut off for next day delivery from 7pm to the industry-leading time of 10pm
App sales up 45% year-on-year boosted by a more personalised, intuitive app experience

Improved colleague experience with launch of hybrid working model and transformed office spaces to promote collaboration and community
Strengthened our executive team with the appointment of former BBC technology director Matt Grest as chief information officer and Robbie Feather, former CEO of Fenwick, set to join the business as retail managing director in late 2021
Henry Birch, CEO at The Very Group, commented:
"I am pleased to report outstanding Group performance, including record revenue, continued profit growth and strong cashflow generation.
"Whether working remotely, educating and entertaining the kids, updating their homes or simply wanting to look and feel good, we've given millions of families the items they need via an extensive range of flexible payment products.
"We've done this while moving our company forward operationally and strategically, from continuous digital customer experience improvements and developing our Very Pay platform to extending next day delivery cut off thanks to our highly automated fulfilment centre.
"I am most proud, however, of our colleagues. Through their dedication, adaptability and ingenuity, they consistently delivered for our customers while adjusting to new ways of working, with many facing personal tests.
"The current environment is not without challenge, but our pandemic experience has shown us that our multi-category offer, combining leading brands with our Very Pay platform, is relevant to an increasingly wide number of customers. We are in good shape to face any future uncertainty, and remain confident that we are well positioned to take advantage of a market and customer behaviour that is moving towards our model."
Financial highlights
Very revenue up 18.2%

2

to £1,878.4m (FY20: £1,589.8m) and Group revenue up 13.0%

3

to a record £2,317.1m (FY20: £2,050.7m), driven by an increase in Very retail sales of 24.9% to £1,535.6m (FY20: £1,229.6m)
Very customers increased 12.4% to 3.82m (FY20: 3.40m), boosting Group customers by 7.6% to 4.82m (FY20: 4.48m)
Group profit before tax of £81.7m, up 68.8% year-on-year (FY20: £48.4m), including exceptional items of £41.3m (FY20: £42.6M)
Underlying Group EBITDA increased 13.7% to £300.5m (FY20: £264.4m), reflecting increased Very retail sales and improved cost management
Group gross margin maintained at 36.5% (FY20: 36.5%), with improvements in retail margin offset by a drop in Very Pay platform contribution
Underlying bad debt expense 1.5%pts lower at 6.1% of the average debtor book
Closing cash balance of £78.1m (FY20: £206.4m), reflecting the £119.4m final settlement of customer redress payments, with no further material increase in provisions expected
Very's average debtor book grew by 3.3% to £1,251.2m (FY20 £1,211.1m)
Very Pay platform revenue decreased -8.6% to £359.6m (FY20: £393.3m) owing to higher levels of customer payments, reflecting enhanced credit decisioning and improved quality of underlying debtor book
Launched soft search across our websites to allow customers to check their eligibility for our Very Pay platform before applying
Strong performance from Littlewoods Ireland, with retail sales up 21.7% to £101.5m (FY20: £83.4m)
Operational highlights
Sales growth across all Very categories, demonstrating strength of multi-category strategy
Electrical (+38.9%), driven by flagship releases in gaming (+65.5%) and double-digit growth in all sub-categories
Home (+26.7%), including home accessories (+27.9%), textiles (+27.0%) and furniture (+33.1%), driven by beds (+43.9%)
Fashion and sport (+11.6%), with particular growth in:

Children's, women's and men's sportswear (+67.7%, +50.1% and +24.3% respectively)
Celebrity and designer clothing (+69.5%), including Michelle Keegan (+25%)

Developing categories (+6.9%), encompassing toys, camping and sports equipment and more, boosted by:

Beauty, fragrance and personal care (+14.8%), with more than 70 new beauty brands onboarded including Benefit, L'Occitane and Dyson Supersonic Hair Dryer

Net increase of circa 100 brands across all categories, including New Look, Never Fully Dressed, Citizens of Humanity, Free People, Cox & Cox and Koble
Launched a new stockless fulfilment model with adidas and Reebok, doubling the product lines available from these brands by shipping direct to customers as well as from our fulfilment centre


Customer service innovation
Our artificial intelligence-powered chatbot, Very Assistant, previously only available via our app, was added to the Very website and became our largest customer service channel, answering 268,000 queries a month and resolving 75% of queries on first contact
The chatbot's success, combined with our focus on increasing online tools for customers to self-serve, saw inbound customer service contact reduce by almost a quarter year-on-year (23%)
Very's Trustpilot rating improved to 'great', with 75% of reviews in the 12 months to mid-August 2021 rating their experience as 'excellent' or 'great'


Fulfilment milestones
Migrated clothing and footwear returns to Skygate, our highly automated fulfilment centre in the East Midlands, making refunds faster and returned product available for re-sale within 30 minutes
Extended the next day delivery cut off for customer orders from 7pm to 10pm
Skygate has processed circa 40.5m individual items via circa 17.5m customer orders since its launch in March 2020

The fastest order to date was processed and despatched within 17 minutes
The record for the most individual items packed within in a single minute stands at 228


Implementing new ways of working
Created and launched a hybrid way of working that is flexible around the needs of our customers, our business and our people
More than £2m invested in creating the right processes, technology and support to enable our people to be highly collaborative in the office and focussed at home
Transformed our offices with culture, community and collaboration in mind, adding open plan zones defined by distinctive décor, group break out spaces, hot desks, accessible kitchens and inclusive facilities


Tech and data investment
Very's app sales increased 45% year on year and visits were up 77%, boosted by numerous customer experience improvements
Upgraded our retail forecasting capability to leverage more automation and machine learning, allowing us to forecast more accurately and ensure availability
Progressed the building of a new customer forensic data capability to draw on our rich data asset and drive relevant, timely and personalised digital experiences


Ongoing focus on sustainability
Continued our journey to net zero carbon by switching all UK operations to renewable energy and offsetting our inbound logistics emissions with partner Kuehne+Nagel
Joined the United Nation's CFO Taskforce, which creates a market for investments into the organisation's Sustainable Development Goals
Enhanced our environmental and social governance by launching an E&S board, chaired by non-executive director, Jacqui Humphries
Contact information
Investor enquiries
Investor.relations@theverygroup.com


Media relations
Eilis Murphy / Samantha Chiene (Brunswick) 020 7404 5959
Dave Lafferty (The Very Group) 07552 283 266
View all documents on our results, reports & presentations page
Notes to editors
About The Very Group
With annual revenue of £2.3bn, The Very Group is a unique digital business that combines online retail and flexible payments. Our family of digital retail brands, led by Very.co.uk and supported by Littlewoods.com and LittlewoodsIreland.ie, helps to bring 2,000 desirable lab within easy reach of more customers.
Our team of passionate people has a shared purpose: making good things easily accessible to more people, and we're here for the millions of online shoppers across the UK and Ireland.
Across electrical, home, fashion and more, we sell everything our 4.8 million customers could need, except food. And our flexible payment options, which are provided responsibly via our Very Pay platform and regulated by the Financial Conduct Authority, help our customers manage their household budgets.
We have over a hundred years of history behind us, but at our heart there is a passion for change – to constantly improve what we do, to innovate with data and technology at our core and to be the best possible place to work.
For more information, visit our website or follow us on LinkedIn, Twitter and Instagram.
Footnotes
1. FY21 was a 53-week period. All results are provided on a 53-week basis, unless otherwise stated in footnotes. Where results state 'after adjusting for week 53', they relate to weeks 1 to 52 of FY21 in comparison with FY20.
2. 16.4% after adjusting for week 53
3. 11.3% after adjusting for week 53