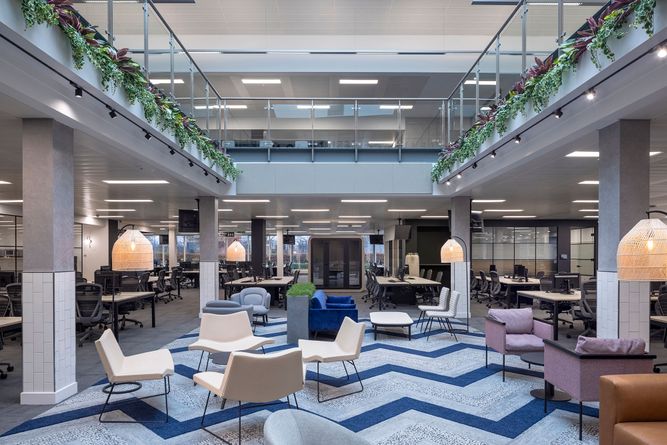 Media
Making hybrid happen: How we're rethinking ways of working at Very
August 3, 2021
Very has always been a people business at heart. Not even a pandemic could change that! What has altered forever, though, is the way we work. Desk-based colleagues will be physically together less, but need to communicate and collaborate more, and reliance on technology has never been greater.
Through engagement surveys, desk-based colleagues told us how much they've valued the flexibility of remote working. The productivity and innovation we've seen during the pandemic totally backed this up. That's why we're introducing a new, permanent hybrid working model. Our office spaces will be about high energy, high impact creativity and collaboration, while home will be for powering through quiet, focussed work.
Of course, the amazing team at our fulfilment centre in the East Midlands, and numerous colleagues with roles at our photography studio and head office in Liverpool that can't be done from home, have worked from our sites throughout the pandemic. They've done a fantastic job and we've worked hard to keep them safe, always acting within, and often exceeding, Government guidance. Our plans for flexible working are more advanced at this stage for our desk-based colleagues, but we're very much thinking about how we can spread that flexibility right across the board. We know it's more highly valued now than ever, regardless of role.
Our customers are our world
Customer outcome is at the heart of our hybrid working model. What can we do to delight our customers and keep them shopping with us? Our people will lead with that question when deciding how and where to work. We're not setting quotas for time at home or in the office. Working patterns will differ for each team and there'll be individual variations based on role, personal circumstances and career stage. What we know above all is that happy, autonomous teams, with a clear brief and an inspiring work culture, can deliver outstanding customer outcomes and great results for our business too.
Offices fit for the future
We were one of the first big businesses to announce our plans for permanent hybrid working and have rethought the purpose and layout of our offices, giving them a 'lockdown glow up' focussed on fostering community and culture.
Our Liverpool HQ, an old aircraft hangar we've always thought was pretty cool, is now open plan with zones defined by distinctive furniture, carpet and décor to help teams come together in the right places. We've added break out spaces for group work, hot desks, accessible kitchens, unisex toilets and heaps of greenery for a sense of calm. Some old favourites have stayed – like our much-loved coffee shops, juice bar and gym – and I can't wait to see them buzzing again.
A company's culture has often been defined by the HQ experience, with that space bringing its values to life. The challenge now is how to build the right culture, values and customer-centricity across digital communities. That's something we're really excited about at Very.
Putting our people first
Our plans aren't just about productivity. By offering better balance, flexibility, and interesting and inspiring work, we can widen our potential talent pool, and attract and retain more amazing people.
We're mindful that emotions around returning to the office are mixed, so we're making it phased and gradual, with a suite of training and support to help our people navigate new hybrid working systems and technology.
We've invested in our leaders via a hybrid working development programme, created with a leading psychologist, to help them show greater humility and flexibility, engender trust, create psychological safety and encourage inclusion. We've also created Very Good Work, our new ways of working playbook, as a manual for how we'll work together and get stuff done brilliantly in this digital-first world.
What will success look like?
We'll know we've got it right if our hybrid working model drives the best possible outcomes for our customers, our people and our business. How? By boosting productivity, efficiency and performance, supporting wellbeing, helping us attract and retain more of the very best talent, and enhancing our culture and engagement levels. No mean feat! But as always at Very, we're all in it together, and I can't wait to see what our future holds.
We're hiring! Find out about opportunities to join our incredible team by visiting our careers site.