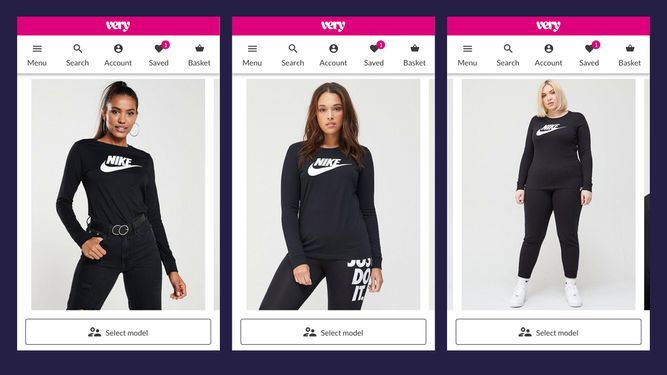 Media
Very.co.uk embraces size diversity with new feature to help customers choose right size and fit
March 10, 2020
Very.co.uk is stepping up its commitment to embracing size diversity with the launch of a new feature that will help customers find the right size and fit by viewing over 80 Nike and adidas product lines on their choice of model.
The feature allows customers to see how the items fit in real life on female models of size 8, 14 or 18.
The brand is owned by The Very Group, the UK's largest integrated online retailer and financial services provider, which also operates Littlewoods.com.
Available on the Very.co.uk website initially, with plans to launch on the mobile app before the end of this year, the feature supports the brand's focus on using technology to promote size diversity and improve customer experience. Removing the need to order items in multiple sizes will also reduce the environmental and commercial impact of returns.
The Very Group is one of the largest online sellers of sportswear in the UK, with Very.co.uk's sportswear sales almost tripling in the last five years. Combined Nike and adidas sales via Very.co.uk have also increased by more than 200% during that period.
The retailer is now exploring options for scaling up the feature and rolling it out across all sportswear and fashion brands.
Sam Perkins, managing director, retail, at The Very Group, said: "We sell a broad range of sizes across our sportswear and fashion ranges and want to do more to both embrace size diversity and give customers confidence in choosing the right size and fit, which they've told us loud and clear is a top priority.
"With the support of two of our biggest sportswear brand partners, the launch of our new feature is an important step forwards in delivering this aim."
Ends
Contact information
Media enquiries
Dave Lafferty 07552 283266
Ashley Muldoon 07523 044507
Notes to editors
About The Very Group
The Very Group is the UK's largest integrated pureplay digital retailer and financial services provider, with annual sales of £2bn.
Our largest and fastest growing retail brand is Very.co.uk, supported by the Littlewoods.com and LittlewoodsIreland.ie brands.
We receive an average of 1.5m website visits every day with 79% of online sales completed on mobile devices.
We sell more than 1,900 famous brands, including big name labels and our own exclusive brands. We serve four million customers, delivering 49 million products every year.
We exist to make good things easily accessible to more people and our aim is to be the number one destination for shoppers who value flexible ways to pay.
By offering customers the brands they love and options to spread the cost, we help them say yes when it really matters.
We have over a hundred years of history behind us, but at our heart there is a passion for change – to constantly improve what we do, to innovate with data and technology at our core and to be the best possible place to work.
For more information, visit our website or follow us on Twitter, LinkedIn or Instagram.