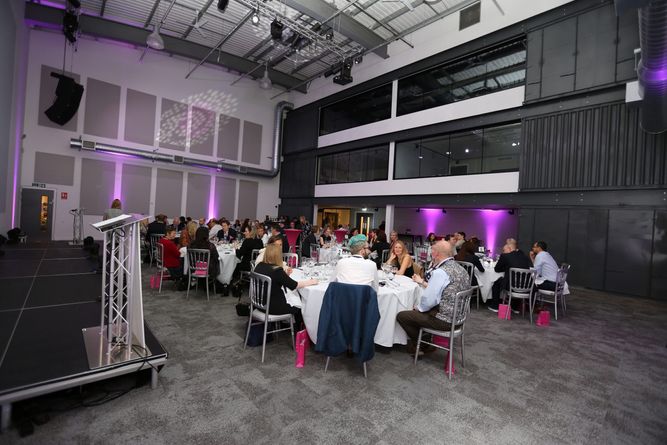 Media
The Very Group to raise £600k to give more children one-to-one reading support
February 12, 2020
Children's reading charity Coram Beanstalk was unveiled as The Very Group's new partner at a dinner at the digital retailer's Liverpool headquarters last night (11 February 2020).
The Very Group will raise £600,000 over the next two years through colleague activities and events, as well as providing industry-leading tech knowledge, to help Coram Beanstalk support 40,000 children with one-to-one reading support.
The partnership will enable the charity to expand its network of reading helpers in the North West and London, where The Very Group has offices, and to launch a network in the East Midlands, where the retailer's new fulfilment centre will become operational later this year.
Coram Beanstalk will also use the funds raised to develop a new digital platform and training materials to support its reading helpers nationally. The technology will connect helpers with each other and allow the charity to recruit new volunteers even more effectively.
Ginny Lunn, managing director at Coram Beanstalk, said: "We're absolutely thrilled to have been chosen by The Very Group's colleagues to be their new charity partner. It is an exciting time for both organisations and this partnership will enable us to realise our ambitions of putting digital at the heart of our future.
"The Very Group's fundraising and expertise will give us the ability to help more children, no matter where they live, to improve their reading skills, reading ability and confidence through dedicated one-to-one support."
The Very Group's own colleagues voted for Coram Beanstalk as its charity partner for 2020/21. For the company's 2018/19 charity partnership, its people raised £710,000 – exceeding their £600,000 target – to help The Booth Centre and The Whitechapel Centre introduce new technology to support homeless people and their families.
Henry Birch, group CEO at The Very Group, said: "Our people decide the charity we get behind and I'm delighted we're supporting Coram Beanstalk over the next two years with fundraising and our tech insight.
"Helping children become better readers doesn't just give them enjoyment; it gives them the skills and self-confidence to help shape their own lives. The charity's impact is massive and we're proud to be a part of that.
"£600,000 is an ambitious target but we smashed our last charity target and I'm confident our people will do it again."
ENDS
Contact information
Media enquiries
The Very Group
Ashley Muldoon 07523 044 507
Dave Lafferty 07552 283 266
Notes to editors
About Coram Beanstalk
Coram Beanstalk is a national reading charity which recruits, trains and supports volunteers to provide one-to-one reading support in primary schools and early year's settings.
Coram Beanstalk's trained reading helpers provide one-to-one support to children aged 3 to 13 in a variety of ways, turning them into confident, passionate and able readers.
The charity also provides training to people within the school community who want to help children learn to read for pleasure whilst improving their reading skills.
This year the charity plans to help 15,000 children through the help of 4,000 reading helper volunteers, ensuring children have the skills and confidence to reach their true potential. By 2020-21 Coram Beanstalk aims to help 20,000 children every year.
Coram Beanstalk is part of the Coram group of charities. For further information visit www.corambeanstalk.org.uk.
Twitter: @beanstalkreads
Facebook: @Beanstalkreads
Instagram: beanstalkreads
About Coram
Coram is the UK's oldest children's charity, supporting children to have the best possible chance in life since 1739. We work as a group of specialist organisations helping more than a million children, young people, families and professionals every year.
We support children and young people from their earliest days to independence, creating a change that lasts a lifetime. We help build their confidence; we help them to develop skills; we uphold their rights, we support practitioners in the areas of fostering and adoption and we find loving adoptive families for the most vulnerable children.
We work in over 2,000 schools supporting nearly half a million children, run London's largest Regional Adoption Agency and provide free legal advice for thousands of children and families who need it every year.
For more information, please visit:
Website: www.coram.org.uk
Twitter: @Coram
Facebook: Coramsince1739
Instagram: coram.uk
About The Very Group
The Very Group is the UK's largest integrated pureplay digital retailer and financial services provider, with annual sales of £2bn.
Our largest and fastest growing retail brand is Very.co.uk, supported by the Littlewoods.com and LittlewoodsIreland.ie brands.
We receive an average of 1.5m website visits every day with 79% of online sales completed on mobile devices.
We sell 1,900 famous brands, including big name labels and our own exclusive brands. We serve four million customers, delivering 49 million products every year.
We exist to make good things easily accessible to more people and our aim is to be the number one destination for shoppers who value flexible ways to pay.
By offering customers the brands they love and options to spread the cost, we help them say yes when it really matters.
We have over a hundred years of history behind us, but at our heart there is a passion for change – to constantly improve what we do, to innovate with data and technology at our core and to be the best possible place to work.
For more information, visit our website or follow us on Twitter and Instagram.