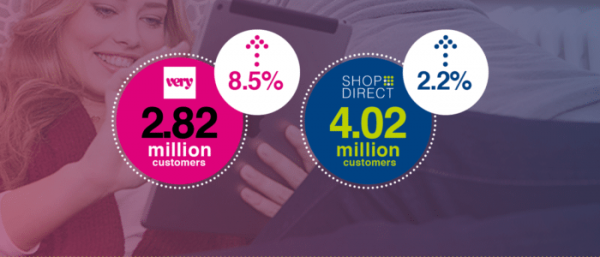 Media
Very customers drive continued growth at Shop Direct
September 19, 2018
Very revenue increased 9.9% to £1,389.1m, driving Group revenue growth of 1.5% to £1,958.8m
Group EBITDA grew 11.0% to £262.3m
Very customers increased 8.5% to 2.82m, boosting total Group customers by 2.2% to 4.02m
Shop Direct, which operates digital multi-category stores Very.co.uk, Littlewoods.com, VeryExclusive.co.uk and LittlewoodsIreland.ie, today announces its full-year results for the 52 weeks ended 30 June 2018.
Henry Birch, Group Chief Executive at Shop Direct, said:
"Four months into my role as CEO, I'm hugely excited by the potential of Shop Direct. Today we're announcing results that show a good underlying performance in a competitive external market.
"Impressive growth in Very, and increases in group revenue and EBITDA show the resilience of our business, which is mobile-first, multi-category, and both a retailer and a credit provider.
"In the last year we've become an even more customer-centric organisation, growing customer numbers to over four million. Our record net promoter score (NPS) is testament to our progress, as is making vital investments in technology and infrastructure to meet our customers' future needs.
"We're trading in line with our expectations and preparing for the important peak season. It's a changing and competitive market but our growth trajectory and differentiated customer offer gives us confidence for the year ahead."
Financial highlights
Group revenue grew 1.5% to £1,958.8m (FY17: £1,929.9m) in a challenging external environment
Very continued to outperform the online non-food retail market1 with revenue up 9.9% to £1,389.1m (FY17: £1,263.5m) driven by strong customer recruitment, increased app penetration, and good growth in Electrical and Seasonal categories
Littlewoods' revenue was down 14.5% to £569.7m (FY17: £666.4m) driven by the annualisation of the closure of the commission scheme in the prior year, plus a challenged Furniture & Homeware performance
EBITDA increased 11.0% to £262.3m (FY17: £236.4m), highlighting the strength of operational performance in the face of strong sector headwinds
Very customers increased 8.5% to 2.82m, boosting total Group customers by 2.2% to 4.02m (FY17: 3.94m)
Group gross margin declined 0.9ppts to 39.9% (FY17: 40.8%) due to the higher proportion of Electrical sales, the mix effect of the continued decline of Littlewoods and the challenging external environment
Debtor book grew 3.4% to £1.65bn (FY17: £1.60bn)
Bad debt declined to 7.2% of the debtor book (FY17: 7.6%) as a result of continued focus on the quality of the debtor book and improvements in collections strategy
Operating profit before exceptional items grew 9.5% to £224.6m (FY17: £205.2m)
Statutory loss before tax of £24.7m (FY17: profit of £24.9m) driven by the further provision of £128m to cover additional customer redress and a provision of £22.5m to cover closure costs associated with the new fulfilment centre
Progress towards winding up our two defined benefit pension schemes and safeguarding the pensions of their members:

Following a buy-in of the Shop Direct Group Limited Pension Plan, at 30 June 2018 the Group and Trustee are committed to completing a buyout of the plan with all liabilities to be transferred to Aviva, who will guarantee the pensions of the plan's members. Expected to complete during FY19, the buyout is anticipated to release a surplus of approximately £15m to the Group when the plan is wound up.
The Group also agreed a buy–in with Scottish Widows of the Littlewoods Pensions Scheme in May 2018, passing risks associated with c60% of the liabilities to Scottish Widows and providing a monthly income to the Trustee to meet the pensions of nearly 7,000 pensioner members.
Operational highlights
Orders from our Very smartphone app increased 39.5% year-on-year to represent 25.4% of total orders across all devices (FY17: 19.5%). On average, app customers visit the site twice as frequently as other customers and the app has a 10% better conversion rate compared with other sales channels2. Sales via mobile devices increased 5ppts year-on-year to 74% of total online sales (FY17: 69%)
Visits to the Very website grew 11.6% to 374.4m, helping to increase total visits to the Group's websites by 5.8% to 520.8m (FY17: 492.2m)
Delivered a record annual NPS score, our measure of customer advocacy, through new, customer-centric ways of working across Retail and Operations
Continued to develop advanced credit decisioning, which will launch in FY19 and uses machine learning to make faster, more accurate credit decisions for customers
Strenghtened the executive team with the arrivals of Henry Birch as Group CEO and Derek Harding as Group Finance Director, and the promotion of Sam Perkins to the Group Executive Board
Awarded Employer of the Year 2018 at the Retail Week Awards in recognition of our progressive people strategy
Maintained strong performance in Sports category, with Nike and Adidas driving improvement
Strengthened Beauty offer by partnering with the Coty Group, allowing us to access the latest fragrances from Calvin Klein, Lacoste and Hugo Boss
In November 2017, raised £550m in 7.75% senior secured notes due 2022 to repay existing term debt
£100m shareholder cash injection in June 2018 to cover customer redress provision of £100m at year end
The construction of our new 850,000 sq ft, state-of-the-art distribution and returns centre at the East Midlands Gateway development has begun. Operational by 2021, the site will let us increase our cut-off time for next day delivery to midnight from 7pm, and explore same day delivery in the future
The first phase of our transformational New Customer Experience (NCE) programme will be delivered in FY19 and offer a range of new affordable options to spread the cost across Very and Littlewoods, as well as personalised, affordable credit offers throughout the customer journey
ENDS
1 7.0% growth in UK online non-food market in FY18; BRC Retail Sales Monitor data
2 Shop Direct customer data 1 January 2018 to 30 June 2018
CONTACT INFORMATION
Media enquiries
Shop Direct
Lauren Young 07919 228622
Dave Lafferty 07552 283266
Brunswick
Eilis Murphy 0207 404 5959
Cerith Evans 0207 404 5959
Bondholder enquiries
Shop Direct Will MacLaren will.maclaren@shopdirect.com
ABOUT SHOP DIRECT
As the UK's largest integrated pureplay digital retailer and financial services provider, Shop Direct has annual sales of £1.96 billion. Our brands are Very.co.uk, Littlewoods.com, VeryExclusive.co.uk and LittlewoodsIreland.ie. We receive an average of more than 1.4 million website visits every day, with 74% of online sales completed on mobile devices.
We exist to make good things easily accessible to more people. With our multi-category range of famous brands, market-leading technology and data capabilities and unique financial services products offering flexible ways to pay, we're well placed to deliver on that promise.
We sell more than 1,800 famous brands, including big name labels and our own exclusive brands. We have four million customers and deliver 49 million products every year. Our free click-and-collect service, CollectPlus, delivers to 7,000 stores across the country, increasing ease and convenience for customers.
For more information on Shop Direct, visit www.shopdirect.com or follow us on Twitter at @ShopDirect.