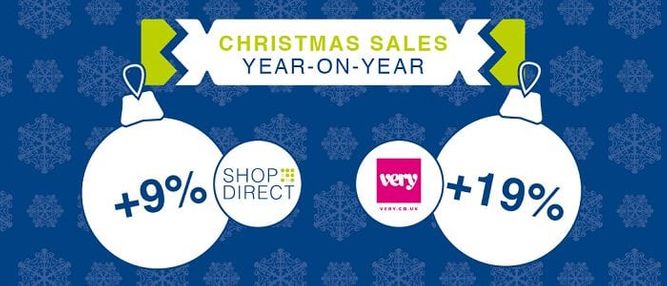 Media
Festive record breaker for Shop Direct as shoppers reach for their smartphones
January 16, 2017
Shop Direct, which operates digital department stores Very.co.uk, Littlewoods.com and VeryExclusive.co.uk, delivered its fifth consecutive record-breaking Christmas sales performance during the seven weeks to 23 December 2016.
As shoppers reached for their smartphones, the UK's second largest pureplay etailer increased group sales by 9% year-on-year – putting the company on track to deliver another year of record sales and profits in 2016/17.
Sales via mobile devices comprised 68% of Shop Direct's online sales, with the company's performance underpinned by its largest and fastest growing retail brand, Very.co.uk. The digital department store delivered sales growth of 19% year-on-year.
Another record Christmas for Shop Direct
Sales for the seven-week period were up 9% year-on-year (2015: 6%)
Very.co.uk, Shop Direct's growth engine, grew sales by 19% year-on-year
Shop Direct trading highlights include:

97m site visits, up 20% year-on-year
Over 410,000 new customers, up 16% year-on-year
Fashion was the standout category with 16% sales growth, supported by:

Shop Direct's recently launched (September 2016) own-brand label V by Very, which proved a hit with customers and is on track to become a £200m brand
Popularity of athleisure products, with ladies sportswear alone growing by 83%

Smart technology, growing 261% year-on-year and buoyed by:

511% boom in smart home products
268% growth in wearable technology

Another record-breaking Black Friday week, with year-on-year sales up by 4%
Delivered by sticking to our winning formula
Customers loved the special Christmas we delivered – bringing famous brands within reach through a variety of easy ways to pay
We offered over 1,300 famous brands across our digital department stores during the festive period – with thoughtful, planned promotions which our customers loved

Among the top 10 Christmas gifts were:

Apple watches
Fragrances
Hasbro's Pie Face game

94% of purchases were made using options to spread the cost – illustrating how much consumers value our offer
We delivered 6.9m parcels and more customers were satisfied with the delivery service they received from our partners Yodel, Arrow XL and Royal Mail

Over a quarter (1.8m) of the total parcels delivered were picked up from Collect+ locations throughout the UK – a 20% year-on-year increase in click-and-collect
Shoppers now expect a mobile-first, personalised experience – and we're leading the way
Customers opted for mobile convenience this Christmas:

Mobile traffic to Shop Direct's sites increased by 30% year-on-year
Sales via mobile devices (smartphone and tablet) made up 70% of Very.co.uk's online sales and increased 29% year-on-year
Sales via smartphone made up 55% of online sales on Very.co.uk and increased by 45% year-on-year – making smartphone by far the most dominant and fastest growing channel

Growth was fuelled by Shop Direct's mobile-first strategy and focus on personalisation, with highlights including:

The launch of Very Assistant – Very.co.uk's in-app conversational user interface (CUI) – in November 2016, which made Shop Direct the first UK-based retailer to offer a WhatsApp-style CUI platform for customer service
Littlewoods' iOS app, which launched in early November, and is already five-star rated
During Black Friday week we personalised our homepage, displaying individual customers' favourite product categories based on their browsing and purchasing histories
Cyber Fortnight deals offered to existing and new customers via social media, using our proprietary knowledge and supplemented by Canvas – Facebook's immersive mobile ad technology
In 2017, artificial intelligence (AI) will super-charge personalisation
Our investments in AI will create one of the most personalised online shopping experiences
Working with IBM Watson, we'll introduce an AI-fuelled CUI platform, building on the success of Very Assistant – allowing customers to ask questions in their own words within a chat environment, with the AI technology providing the answers they are looking for
Our fully automated customer management engine will draw on the power of AI and machine learning to automatically intervene in individual customer journeys at the right time, in the right way, with the right offer – whether it be via email, push notification or on-site communication
We are also applying AI to our credit decisioning capabilities, meaning even faster, more personalised outcomes for our customers, and even better credit decisions and risk discipline for our business
Alex Baldock, CEO at Shop Direct, said:
"We helped millions of families afford the brands they wanted this Christmas. It's what makes us special and gave us another record festive period.
"Shoppers chose convenience; being able to shop via smartphone was top of their Christmas lists. Most of the growth in retail is coming from online, and the growth in online is coming from mobile. We continue to put mobile first – and it paid off this Christmas.
"Our customers don't want to feel like one of the crowd; they expect a unique experience. It's what we gave them before, during and after they shopped this Christmas. Now, we're using the power of AI to take personalisation to the next level.
"Personal shoppers shouldn't be the preserve of just a few, or for just special occasions. Over the coming year, we intend to start democratising this service, like we have with famous brands through our credit offering.
"Etailers have already overtaken stores when it comes to convenience. Now AI-fuelled technology like chatbots and virtual reality has the potential to leave bricks and mortar behind in offering the best personal service. We believe it's the next big shift in retail and financial services, and we plan to be at the vanguard.
"We know the market will be tough in 2017; we've still got a lot of work to do and we're nowhere near the full potential of this business. But we're confident that by continuing to invest in what makes us special, we'll deliver another record year of sales and profit in 2017."
ENDS
CONTACT INFORMATION
Shop Direct
Lauren Young – 07919 228 622
Dave Lafferty – 07552 283 266
Brunswick
Eilis Murphy – 0207 404 5959
Cerith Evans – 0207 404 5959
ABOUT SHOP DIRECT
Shop Direct is the UK's second largest pureplay digital retailer, with annual sales in the last financial year of almost £1.9 billion. Our digital department store brands are Very.co.uk, Littlewoods.com, VeryExclusive.co.uk and LittlewoodsIreland.ie. In the last financial year, we received an average of more than 1.2 million website visits every day, with 62% of online sales completed on mobile devices.
We exist to make good things easily accessible to more people. With our department store range of famous brands, market-leading ecommerce and technology capabilities and unique financial services products offering flexible ways to pay, we're well placed to deliver on that promise.
We sell more than 1,300 famous brands, including big name labels and our own exclusive brands. We have four million customers and deliver 49 million products every year. Our free click and collect service, Collect+, delivers to 5,800 stores across the country, increasing ease and convenience for customers.
For more information on Shop Direct, visit www.shopdirect.com or follow us on Twitter at @ShopDirect.