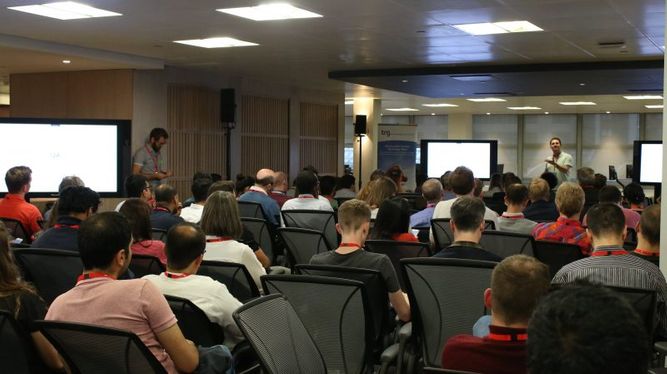 Media
Agile Roundabout gets first look at Shop Direct's London hub
August 9, 2017
100 technologists came together at Shop Direct's new London hub to hear the latest best practice and developments in microservices at the 16th Agile Roundabout tech meetup.
The event, which took place on 3 August and was sponsored by recruitment firm TRG, heard from Shop Direct's Seb Carss, Just Eat's Michal Franc and Kobalt Music's Jeremy Ryan, and was the first event to be held at the office.
Attendees were told how microservices is helping Shop Direct be "more productive and deliver more value, more quickly" to its customers.
To illustrate the power and versatility of microservices, Carss, a principal systems engineer at the pureplay etailer, built a Ramen restaurant finding app during his presentation and invited attendees to use it at the end of the night.
Just Eat's Michal Franc talked about the pros and cons of microservices, when to adopt, and how it affects organisations and tech teams. Meanwhile, Kobalt Music's Jeremy Ryan discussed his company's journey with microservices, and the successes and challenges they've faced along the way.
WATCH MICHAL'S PRESENTATION / WATCH JEREMY'S PRESENTATION
Shop Direct's newly opened 25,000 sq ft London hub in Victoria, which is planned with the company's shift towards agile working practices at its centre, has capacity for 250 people and will host colleagues working across data science, IT, eCommerce, product and brand.
Shop Direct's Simon Halkyard, who helped to organise the event, said: "It was great to host so many enthusiastic technologists at our new office for what was a really fun event. Microservices is increasingly being used by organisations big and small, and it was a hugely engaging topic on the night.
"We're new here, so we want to throw ourselves into the London tech community. We definitely want this meetup to be the first of many here at Shop Direct."
The next Agile Roundabout meetup is on IT transformation and will be at River Island's Shoreditch offices. For more information, visit the Agile Roundabout meetup page.