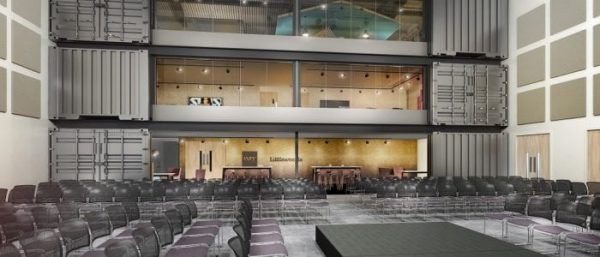 Media
Shop Direct opens state-of-the-art training, conferencing and wellbeing facility at Liverpool headquarters
August 11, 2016
Shop Direct, the UK's second largest pureplay online retailer, has opened a state-of-the-art, 12,400 sq ft training, conferencing and wellbeing facility, as the company continues to invest in becoming a world class digital retailer.
'The CUBE', which includes a 250-capacity conference space, a juice bar and an exercise area, is the result of the refurbishment of a former studio space at Shop Direct's Liverpool headquarters and signals the company's continued commitment to building a truly digital workplace, fit for the future.
It has been designed using feedback from Shop Direct colleagues, who said they wanted a new space for thinking, learning and collaboration, as well as recharging their batteries and keeping fit.
The CUBE will have a relaxation zone, a number of different breakout areas, wellness and exercise classes, and an area for beauty treatments, as well as host different internal and external events.
With healthy meals and fresh vegetable juices available to buy, and colleagues able to access health checks from external partners, The CUBE will form an important part of Shop Direct's colleague wellbeing agenda, helping people to balance a fulfilling career with a lifestyle that is right for them.
Alex Baldock, CEO at Shop Direct, said:
"Our people, and the people we want to hire, expect to come to a collaborative digital workplace that's full of purpose, passion and creativity. The CUBE gives us just that.
"I'm hugely proud of all the work that's gone into the facility; it's been shaped by our people, for our people – and is another step on our journey to world class."
Jacqui Humphries, group people director at Shop Direct, commented:
"The highest performing businesses have the most engaged teams. With an average of 84% right across our business – a world class engagement score – the wellbeing of our colleagues and how engaged they are is something we take hugely seriously.
"This new facility will play a massive part in our wellbeing agenda, as well as helping us to introduce even more agile ways of working, creating better collaboration and quicker innovation for our customers.
"The CUBE embodies what our colleagues want and need to thrive; a place to have fun, be creative, work together and stay healthy, as well as be inspired by training and events throughout their careers in our world class conference space.
"We're all massively excited by The CUBE's potential and how it can drive us all on to take our business even further over the coming years."
ENDS
CONTACT INFORMATION
Dave Lafferty dave.lafferty@shopdirect.com 07552 283266
ABOUT SHOP DIRECT
Shop Direct is the UK's second largest pureplay online retailer, with annual sales of £1.8 billion. Our digital department store brands are Very.co.uk, Littlewoods.com, VeryExclusive.co.uk and Littlewoods.ie. We receive an average of 1.2 million website visits every day, with more than 60% of our sales completed on mobile devices.
We exist to make good things easily accessible to more people. With our department store range of famous brands, market-leading ecommerce and technology capabilities and unique financial services products offering flexible ways to pay, we're well placed to deliver on that promise.
We sell more than 1,100 famous brands, including big name labels and our own exclusive brands. We have four million customers and deliver 48 million products every year. Our free click and collect service, Collect+, delivers to 5,800 stores across the UK, providing ease and convenience for customers.
Fo r more information on Shop Direct, visit www.shopdirect.com or follow us on Twitter at @ShopDirect