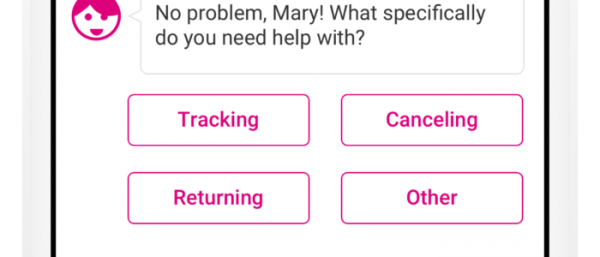 Media
Shop Direct becomes first UK-based retailer to launch WhatsApp-style conversational user interface platform for customer service
November 11, 2016
The new technology, called 'Very Assistant', allows customers to quickly find answers for their customer service questions in a WhatsApp–style chat environment within the Very.co.uk iOS app
Shop Direct is the first UK-based retailer to apply conversational user interface (CUI) technology for customer service
The technology is the first step towards an AI-fuelled 'natural language' CUI platform, which Shop Direct is developing with IBM Watson and is aiming to introduce in 2017
Shop Direct, which operates online department store brands including Very.co.uk and Littlewoods.com, has become the first UK-based retailer to use CUI technology for customer service by launching a fully-automated platform that allows customers to quickly find answers for their questions in a WhatsApp-style chat environment.
Available initially in the iOS 'MyVery' app, the innovative new 'Very Assistant' makes the user journey even simpler for customer service questions by allowing people to interact with Very.co.uk speedily and easily in a format that they are adept at using day-to-day. The platform is automated, which means customer queries are answered quickly and accurately.
Very Assistant works by asking the app user if they need any help. The customer is then presented with a sequence of questions and multiple action options, which the customer taps within the chat environment. The customer's answers enable the platform to instantly serve up the information they are looking for.
Customers can use Very Assistant to track an order, make a payment on their Very.co.uk account, confirm that recent payments have been processed, check their payment dates and request a reminder of their account number.
The new technology, which was developed in-house by Shop Direct's multi-award-winning eCommerce team, has been introduced in response to customer research which showed that people wanted to interact with the group's brands in a chat environment.
The research also analysed the most common queries customers ask, those questions that are best suited to the Very Assistant platform, and how the new technology fits into the company's overall customer care journey.
The technology is the first step towards a 'natural language' solution. Shop Direct, which is the UK's second largest pureplay digital retailer, is working with IBM Watson to develop and introduce in 2017 an AI-fuelled CUI platform. This will allow customers to ask questions in their own words within a chat environment, with the AI technology serving up the answers they are looking for – making their experience even more personalised.
Alex Baldock, group CEO at Shop Direct, said: "Our customers want to chat to us as they do their friends on WhatsApp – it's what they're used to. Very Assistant is our response to that desire and it will make it even easier for our customers to shop. But this is only the start.
"AI will change the game and we're backing it in a big way. It'll allow us to offer a personalised, 'natural language' CUI experience for service queries in 2017 – which will be massive for our customers.
"And in the long term, we believe AI-driven CUI will go even further by democratising the personal shopper. We will chat to them about the best products, style ideas and offers, and help them select what's right for them. The more customers talk to us the better we'll know them – AI learns on its own. Why should top-notch personalised service be restricted to those who can afford to shop in Bond Street? It's a bold ambition, but it fits our goal of becoming a world class digital retailer and we believe in it."
Jonathan Wall, eCommerce director at Shop Direct, commented: "This fully native platform is squarely focused on what our customers need. It's delivered through our app because that's where they want to have questions answered. It's also the best place for us to collect feedback and constantly improve Very Assistant.
"We think this new technology will simplify our user journey, improve satisfaction, and help to boost efficiency in our customer service operation. It's also the first step towards 'natural language', AI-driven CUI – which is something we're hugely excited about."
ENDS
CONTACT INFORMATION
Shop Direct
Lauren Young 07919 228 622
Dave Lafferty 07552 283 266
ABOUT SHOP DIRECT
Shop Direct is the UK's second largest pureplay digital retailer, with annual sales of almost £1.9 billion. Our digital department store brands are Very.co.uk, Littlewoods.com, VeryExclusive.co.uk and LittlewoodsIreland.ie. We receive an average of more than 1.2 million website visits every day, with 62% of online sales completed on mobile devices.
We exist to make good things easily accessible to more people. With our department store range of famous brands, market-leading ecommerce and technology capabilities and unique financial services products offering flexible ways to pay, we're well placed to deliver on that promise.
We sell more than 1,300 famous brands, including big name labels and our own exclusive brands. We have four million customers and deliver 49 million products every year. Our free click and collect service, Collect+, delivers to 5,800 stores across the country, increasing ease and convenience for customers.
For more information on Shop Direct, visit www.shopdirect.com or follow us on Twitter at @ShopDirect.