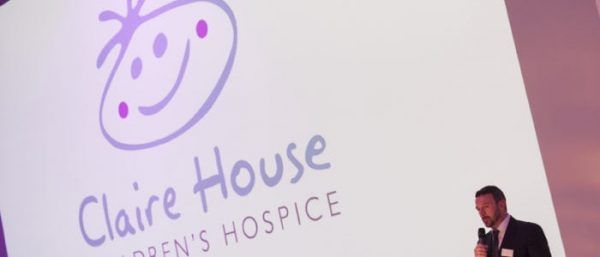 Media
£400,000 Shop Direct partnership to help Claire House use digital technology to support seriously ill children
November 9, 2016
Claire House Children's Hospice – which is developing plans to convert an old monastery in West Derby, Liverpool into a new facility to support hundreds more seriously and terminally ill children in the North West – was unveiled as Shop Direct's new charity partner at a dinner at the etailer's Liverpool headquarters last night (8 November 2016).
Shop Direct will raise £400,000 over the next 12 months through colleague activities and events, as well as providing industry-leading knowledge to help Claire House begin the development of a world class digital hospice in Liverpool. The new site will support the charity's existing Wirral hospice, which currently helps over 200 children and their families each year.
The charity's biggest corporate partnership to date will help Claire House put in place futureproof digital infrastructure like cabling, Wi-Fi and server technology at the new site, as well as modernise paper-based systems to enable its teams to deliver a more personalised service while caring for children in their own homes, as well as at the new site.
The team at Shop Direct will also help to fund and design an interactive multi-media suite for use by the children and families who visit the centre, and will include cutting-edge technology and innovative sensory treatments.
As part of the partnership, Shop Direct will form a new innovation board with Claire House, which will help define what the world class digital site will look like and deliver plans that create a lasting legacy for the North West.
David Pastor, CEO at Claire House, said: "We're hugely excited to be partnering with Shop Direct. The funds they will raise make a massive difference to the seriously and terminally ill children we help.
"As digital innovators, the team at Shop Direct will be able to use their skills to help us design a hospice for the future that will help us reach more families who desperately need our support."
Over 80% of Shop Direct colleagues across its sites voted for Claire House to be the firm's new charity for 2016/17, having raised over £210,000 to support the development of a ground-breaking digital app for Alder Hey Children's Hospital in 2015/16.
Alex Baldock, CEO at Shop Direct – who spoke about the partnership to North West business and digital industry leaders who attended the launch dinner, commented: "Claire House's work has a massive impact on seriously ill children and their families right across the North West and I'm delighted we've selected them as our new charity.
"This partnership gives us an opportunity not just to support our communities, but also to deploy our digital expertise to help Claire House build one of the most advanced centres of its kind in the country – leaving a valuable and lasting legacy.
"£400,000 is the biggest charity target we've ever set as a business. It's hugely ambitious, but I know our people will rise to the challenge and I'm confident that together we'll get there – and make a real difference."
ENDS
CONTACT INFORMATION
Shop Direct
Lauren Young 07919 228 622
Dave Lafferty 07552 283 266
Claire House Children's Hospice
Hannah Shannon 07904 529296
ABOUT SHOP DIRECT
Shop Direct is the UK's second largest pureplay digital retailer, with annual sales of almost £1.9 billion. Our digital department store brands are Very.co.uk, Littlewoods.com, VeryExclusive.co.uk and LittlewoodsIreland.ie. We receive an average of more than 1.2 million website visits every day, with 62% of online sales completed on mobile devices.
We exist to make good things easily accessible to more people. With our department store range of famous brands, market-leading ecommerce and technology capabilities and unique financial services products offering flexible ways to pay, we're well placed to deliver on that promise.
We sell more than 1,300 famous brands, including big name labels and our own exclusive brands. We have four million customers and deliver 49 million products every year. Our free click and collect service, Collect+, delivers to 5,800 stores across the country, increasing ease and convenience for customers.
For more information on Shop Direct, visit www.shopdirect.com or follow us on Twitter at @ShopDirect.
ABOUT CLAIRE HOUSE CHILDREN'S HOSPICE
Claire House Children's Hospice helps seriously and terminally ill children live life to the full by creating wonderful experiences and bringing back a sense of normality to family life. By providing specialist nursing care and emotional support Claire House helps families smile again when life couldn't get any tougher.
Offering care whenever and wherever it's needed, the hospice provides various therapies, day care, short break, counselling and end of life care. Claire House offers parents some desperately needed time off with the peace of mind that their children are being well looked after. The hospice provides someone to talk to and specialist counselling and family support. Families also get a chance to get to know each other and meet with other people going through similar experiences through days out, experiences and support groups.
www.facebook.com/ClaireHouseCH