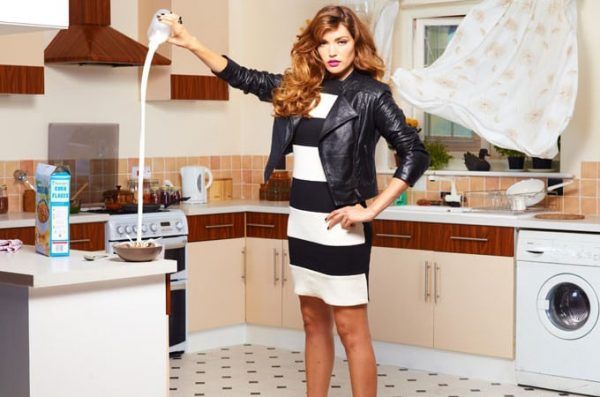 Media
Very.co.uk backs new fashion label with £2m ad campaign and celebrity launch
October 8, 2013
Digital department store, Very.co.uk, has invested £2m in an above the line campaign to
support the launch of its new womenswear brand, Definitions.
Definitions is designed to take stylish, professional women from day through to evening by
offering a versatile range of edited trend essentials, with a particular emphasis on separates
and dresses.
Very.co.uk's advertising campaign for the label is based around the idea of 'everyday stylish'
– that no matter how mundane or banal the situation, the right outfit can make you feel
fabulous.
Very.co.uk worked with its retained creative agency, St Luke's, to create the campaign. It will
run across TV, print, outdoor and digital for five weeks, with the 30" TV advert breaking
during tonight's Emmerdale and the extended 40" edit appearing during X Factor on Saturday
7th September.
The TV ad has been created using a combination of still and moving images to create a
powerful effect that will draw the viewer in to the world of the new Definitions range. The
camera starts close in on the models and you immediately think that you are seeing a woman
frozen in time as though lifted straight from a high fashion editorial shoot. As the camera
zooms out and moves around the model, we see that we are not looking at a photo shoot,
but instead at a woman going about her everyday business. The stillness of the models then
contrasts with the moving pictures used on certain isolated elements within the shot to
highlight particular features of the clothes and further grab the viewer's attention.
The Definitions range was officially launched at a celebrity event held at Somerset House on
4th September. Hosted by television presenter and Definitions model, Laura Whitmore,
guests were treated to a salon show of the new fashion collection, with fans invited to follow
the occasion via social media channels.
Creative credits:
Campaign title: Everyday Stylish
Client: Paul Ray – head of brand and advertising, Very.co.uk
Brief: to launch the stylish new Definitions range
Creative agency: St. Luke's
Creative director: Al Young
Copywriter: Ed Redgrave
Art director: David Wrigglesworth
Media agency: Carat
Production company: Partizan
Directors: Canada
Editor: Leila Sarraf at Trim
Post-production: MPC
Music production/track: Purity Ring, 'Fine Shrine'
Audio post-production: Grand Central
Exposure: TV, press, outdoor, digital