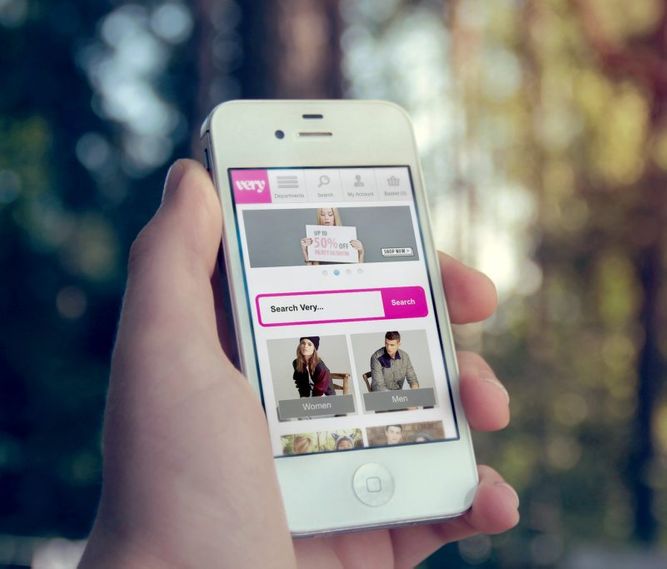 Media
Shop Direct predicts bumper mobile Christmas as traffic from devices outstrips desktop
December 20, 2013
Shop Direct, the UK's leading multi-brand online retailer, is predicting an even bigger mobile Christmas than first indicated, after traffic to its sites from smartphones and tablets topped 50%.
In the six weeks up to and including Saturday 7th December 2013, mobile visits to Shop Direct's six digital department store websites outstripped desktop for the first time, averaging 50.4%.
This represented a 120% increase in visits from tablets and a 105.2% jump in traffic from smartphones, when compared with the same period last year.
Shop Direct's six transactional sites, which include Very.co.uk, Littlewoods.com and isme.com, received a daily average of 1.3 million visits during the six weeks – a 23% increase on last year.
The number of orders made on mobile devices almost doubled during the period, increasing by 97%. Similarly, the value of mobile orders jumped by 91.6%.
Gareth Jones, retail and strategy director at Shop Direct, said: "We knew that this Christmas would be massive for mobile but all signs indicate that it's going to smash our early expectations.
"To have topped 50% of traffic from mobile before we got into the peak weeks of December highlights the increasing power of these devices and of shoppers in dictating the retail agenda. We haven't actively pushed customers onto mobile – they've adopted these devices willingly for their convenience and ease of use.
"It's not just a case of people switching from desktop to mobile in the evening either, although that of course plays a part. In fact, the biggest growth in mobile traffic that we've seen has occurred between 6.00am and 12.00pm, which would indicate a real shift in customer behaviour.
"More and more of our customers are now snacking on their mobile devices on the way into work in the morning. They tend to use this time to browse, compare and share products with their friends. Afternoons and evenings then tend to be the times that most people go on to transact.
"Of course, Black Friday played a significant part in the mobile growth we've seen over recent weeks, as customers checked back on their mobile devices throughout the day for new deals. But traffic levels are showing no sign of slowing, which is particularly pleasing.
"Where this goes next Christmas, with wearable technology and other new innovations coming down the track, will be fascinating to see."
ENDS

Media contact
Lauren Young on 0844 292 4799 or lauren.young@shopdirect.com.
About Shop Direct
Shop Direct is the UK's leading multi-brand digital retailer, with annual sales of £1.7 billion. Our digital department store brands include Very.co.uk, Littlewoods.com and isme.com and receive an average of 880,000 website visits every day.
We exist to make good things easily accessible to more people. With our department store range, unique financial services offer and market-leading ecommerce capabilities, we're well-placed to deliver on this promise.
We sell more than 800 famous brands, including big name labels and our own exclusive brands, and deliver 46 million products each year to five million active customers.
For more information on Shop Direct, visit www.shopdirect.com or follow us on Twitter @ShopDirect.