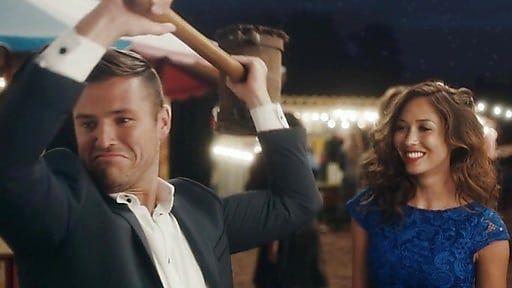 Media
Myleene Klass and Mark Wright deliver the 'Littlewoods touch'
October 7, 2013
Digital department store, Littlewoods, has teamed up its brand ambassadors Myleene Klass and Mark Wright to star in their Autumn/Winter 2013 advertising campaign.
The latest advert in the hugely successful 'The Littlewoods Touch' campaign showcases the fantastic pieces available in the AW13 women's fashion range as well as featuring key items from the children's and men's collections.
Created by the retailers retained agency, St Luke's and directed by Michael Gracey at Partizan, the advert is set in a vintage funfair with full-size traditional attractions including a restored Victorian steam powered carousel.
As Myleene Klass travels through the attractions, she uses 'The Littlewoods Touch' to transform the fellow fairground-goers casual outfits into sumptuous party wear ready for the glamorous night ahead.
Alongside Myleene, the advert features a cameo from TV presenter Mark Wright, his first appearance in a TV advert for the family brand. At a 'Test Your Strength' machine, Myleene meets a traditional strongman and as he swings the hammer to attempt to ring the bell, she transforms him into Mark Wright wearing a suit from his Goodsouls capsule range, much to the delight of the women looking on.
With a total spend of £3m, the multi –media campaign launches on 19th September with a 30" advert during Emmerdale. A 40" version will follow on the 20th and will debut during Coronation Street – both versions will run throughout the campaign. In addition, a 10" version will feature weekly trading offers and will run from the second week of the campaign.
As well as the usual media and social channels, the campaign will feature some Direct Response TV and Littlewoods will be testing a retargeting mobile platform called Adfonics. Both the traditional media and digital campaigns were planned and booked by Carat.
Gary Kibble, Retail Brand Director for Littlewoods, said: "We have been thrilled with the success of 'the Littlewoods Touch' concept. The idea has really caught the imagination of our customers who rely on Littlewoods to help them get the good things they want for themselves and their families. We're also delighted that Mark Wright is featuring in this advert following the popularity of his association with the Goodsouls collection at Littlewoods."
Additional credits for the campaign:
Campaign title: Littlewoods Autumn Winter 2013
Client: Littlewoods
Gary Kibble, Brand Director
Andrew Roscoe, Head of Brand, Sponsorship and Celebrity
Kim Pritchard, Brand Lead – Embedded Brands
Sarah Gomery, Advertising Executive
Brief: Promote Littlewods Autumn/Winter women's fashion range.
Creative agency: St. Luke's
Creative Director: Julian Vizard, Al Young
Copywriter: Al Young
Art director: Julian Vizard
Planner: Dan Hulse, Giselle Okin
Media agency: CaratMedia planner: Chris Dennis
Production company: Partizan
Director: Michael Gracey
Illustrator/Photographer:
Post-production: MPC
Music production/track: Arlissa, 'Into the Light'
Audio post-production: Grand Central
Exposure National TV