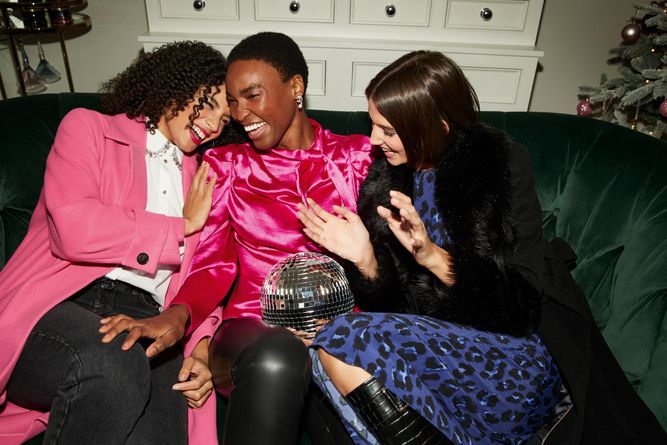 Media
Very delivers strong Christmas performance driven by all product categories
January 11, 2022
The Very Group, which operates digital retailer Very.co.uk, today (11 January 2022) announces its Christmas trading results for the seven weeks to 24 December 2021 including the Black Friday promotional period1. Percentage variances are given against two years ago (YoY-1) unless otherwise stated.
Very retail sales grew strongly at +21.9% YoY-1.
Very retail sales enjoyed double-digit growth across all four key product categories: electrical (+28.2% YoY-1), home (+24.5% YoY-1), fashion & sports (+17.7% YoY-1) and developing categories (+12.2% YoY-1).
Significant recovery in fashion & sports, and continued growth in developing categories compared with the prior year (YoY). As anticipated, electrical and home declined YoY driven by the normalisation of these categories following the annualisation of last year's pandemic-driven peaks.
Very's fastest order of Christmas 2021 was processed and despatched in 18 minutes and 32 seconds by its highly automated fulfilment centre, Skygate, which ran on 100% renewable energy during a peak trading period for the first time.
Very's automated chatbot was used by 137,000 customers a week and helped to reduce calls into its contact centre by -17% YoY.
As previously guided, the Group's focus remains on earnings and liquidity and it looks forward to updating the market on its continued progress at H1 results in February 2022.
The Group is pleased to today announce the appointment of Dirk Van den Berghe as Non-Executive Chair. See separate statement for further detail.
Commenting on today's results, Henry Birch, CEO at The Very Group, said:
"Thanks to the hard work and commitment of our people, we've delivered another amazing Christmas for our customers and strong trading results for the period.
"Very recorded outstanding double-digit growth compared with the pre-pandemic festive season in 2019, as our customers enjoyed a more 'normal' Christmas. They bought back into fashion, focused on wellness, got their hands on the latest consoles and doubled-down on Christmas decorations to make up for last year's more muted celebrations.
"Our performance was supported by our strong supplier and delivery partner relationships and our highly automated fulfilment centre Skygate, which enabled us to consistently deliver for our customers throughout the period.
"While the next 12 months will no doubt bring challenges as we all continue to navigate life around Covid-19, the last two years have shown that our model, which combines multi-category digital retail with our Very Pay platform, is both highly resilient and highly relevant. We're going into the new year with great momentum and are well-set to keep building on our success."
Very.co.uk highlights
Very retail sales grew strongly at +21.9% YoY-1 and declined -2.6% YoY compared with the 2020 Christmas period, when the country was impacted by lockdowns.

Very retail sales enjoyed double-digit growth across all four key product categories YoY-1:
Electrical grew +28.2% YoY-1 led by gaming (+83.5% YoY-1) and the ongoing popularity of consoles including PS5, Xbox Series X and Nintendo Switch, and vision (+22.6% YoY-1).
Home increased +24.5% YoY-1 driven by festive decorations (+106.0% YoY-1) and home textiles (+36.3% YoY-1).
Fashion & sports increased +17.7% YoY-1 led by premium fashion (+44.6% YoY-1), and sports clothing and footwear (+25.4% YoY-1).
Developing categories increased +12.2% driven by beauty (+27.8% YoY-1) and personal care (+31.9% YoY-1), with the wellness trend that emerged at the outset of the pandemic illustrating its staying power.
Among the top-selling items were:
By sales:

Playstation 5 console
X box Series X console
Apple Airpods
Oculus Quest 2 Virtual Reality Headset

By quantity:

Apple Airpods
Everyday Collection Teddy Fleece V Shaped Pillow
Calvin Klein Eternity Moment Eau de Parfum
River Island girls leggings
Group highlights
Overall Group revenue, including Very Finance income, grew +11.5% YoY-1 and declined -3.3% YoY compared with the 2020 Christmas period.
Operational highlights
Supply chain strength
Good stock availability maintained throughout peak thanks to:

477 shipping containers, holding circa 2.2m individual items, arriving direct to our fulfilment centre via rail between 1 September and 24 December 2021.
Our longest-ever Black Friday period (29 days), which helped manage spikes in demand.
Strong, diverse supply chain relationships, including with our delivery partners Yodel, Arrow XL and Royal Mail.
Highly automated fulfilment operation
A successful second peak for Skygate, our fulfilment centre in the East Midlands, which opened the day the first national lockdown began in March 2020:

High levels of automation leading to low labour costs per unit.
3m items processed in total, all shipped with 80% recycled content in our dispatch bags.
222,492 items processed on 2 December 2021 was a new daily record.
The fastest order during Christmas 2021 was processed and despatched in 18 minutes and 3 seconds.
Skygate ran on 100% renewable energy during peak for the first time.

High levels of automation mean the labour cost per unit at Skygate is circa 60% lower compared with the Group's former fulfilment operation.
Even better customer service
137,000 customers a week used the Very Assistant chatbot (+23% YoY), which uses artificial intelligence to recognise and answer customer service queries in a text chat environment.
The chatbot's success helped to reduce calls to the Group's contact centre by 17% YoY.
A Very appy Christmas
In 2021, website visits increased +32.3% YoY-1.
During Christmas 2021, Very built on the increased customer engagement seen on its app in Christmas 2020:

App visits increased +129.1% YoY-1.
App visits as a percentage of total Very visits reached 34.0% in 2021, up from 30.1% in 2020 and 19.6% in 2019.
Meanwhile, app sales made up 40.0% of total sales in 2021, compared with 38.1% in 2020 and 32.2% in 2019.
Ends
1To account for an additional full trading week within the Group's FY21 trading calendar, the adjusted seven-week trading periods used for fair comparison are 6 November to 24 December 2021; 9 November to 27 December 2019 (YoY-1), and 7 November to 25 December 2020 (YoY).
Contact information
Investor enquiries
Investor.relations@theverygroup.com
Media relations
Eilis Murphy / Samantha Chiene (Brunswick)
020 7404 5959
Dave Lafferty (The Very Group)
07552 283 266
Notes to editors
With annual revenue of £2.3bn, The Very Group is a unique digital business that combines online retail and flexible payments. Our family of digital retail brands, led by Very.co.uk and supported by Littlewoods.com and LittlewoodsIreland.ie, helps to bring 2,000 desirable labels within easy reach of more customers.
Our team of passionate people has a shared purpose: making good things easily accessible to more people, and we're here for the millions of online shoppers across the UK and Ireland.
Across electrical, home, fashion and more, we sell everything our 4.8 million customers could need, except food. And our flexible payment options, which are provided responsibly via our Very Pay platform and regulated by the Financial Conduct Authority, help our customers manage their household budgets.
We have over a hundred years of history behind us, but at our heart there is a passion for change – to constantly improve what we do, to innovate with data and technology at our core and to be the best possible place to work.
For more information, visit our website or follow us on LinkedIn, Twitter and Instagram.