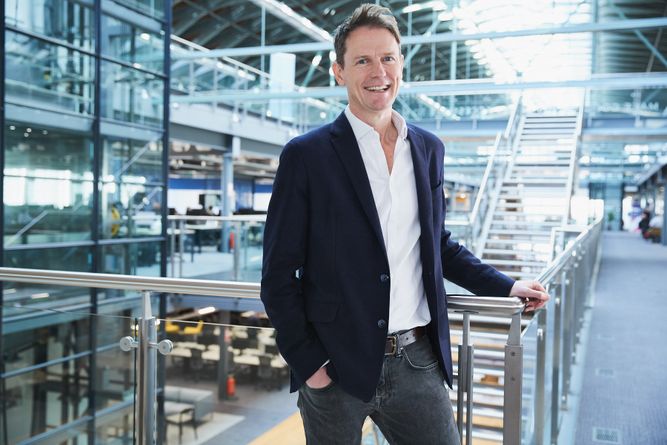 Media
Five ways we're supporting hybrid working with CEO Henry Birch
May 16, 2022
At Very, we've always known that our people and culture are what make us special. The pandemic highlighted that more than ever. As working from home became the new normal for many of us, lots of our teammates told us that this had a positive effect on their wellbeing. But they also missed the buzz and social connection of the office. That's why hybrid working feels right for us and is here to stay.
Here are just some of the ways we're supporting our teammates to make the working week work for them.
Out to lunch
We have a 'meeting free hour' each day, to protect lunch time for everyone. We encourage our teammates to take a break, and step away from their desks. Wherever I am, I try to get outside for some fresh air, so I can recharge and prepare mentally for the afternoon ahead.
Quotas? What quotas?
We don't tell anyone how much time they should spend in the office. Working patterns differ from team to team and based on personal circumstances or career stage. We trust our people to get the job done and, above all, we want happy, autonomous teams.
Reimagining the office
We've totally reimagined the purpose and layout of our offices to support hybrid working. After a 'lockdown glow-up', they are designed to foster community and culture. There are open plan spaces, with zones defined by distinctive furniture, carpet and décor to help teams collaborate. We're hot-desk only, with breakout spaces for group work and greenery everywhere to create a sense of calm.
Rethinking meetings
We've created new guidelines to help us get the most out of meetings, because while they get a bad rep, they're often important. All meetings are optional, so if a teammate doesn't think they'll add value, someone else is better placed to contribute, or they have a more urgent priority, we encourage them to reach out and explain why. And we've said goodbye to half hour and hour-long meetings; ours are only ever 25 or 50 minutes. That way, there's always time for a breather in between.
Putting our people first
Whether you love it or have more mixed feelings, adapting to hybrid working is a big change. To support our people through the transition, we worked with a leading psychologist to create a development programme for our leaders. This has been designed to encourage flexibility, trust and inclusion as we navigate this new way of working, together.
Hybrid working isn't just about productivity, it's about people. We believe that by offering more flexibility and a better work-life balance, wellbeing can become an even greater part of our culture. In turn, that will help us attract and retain more of the best talent. After all, we're at our best when we're all at our best.
I'll be sharing more about our hybrid working journey on LinkedIn over the coming months.