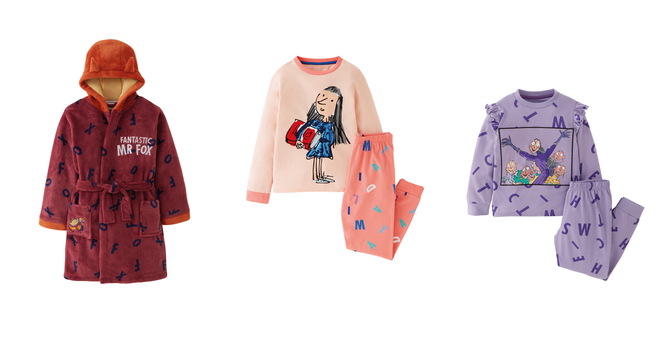 Media
Very supports Coram Beanstalk with exclusive Roald Dahl pyjamas and bedding
September 2, 2021
It is what dreams are made of – Roald Dahl pyjamas and bedding for kids are arriving exclusively at Very to transport children into new worlds. Better yet, for every sale from the exclusive collection, Very will donate all profits* to reading charity, Coram Beanstalk.
The collection, for children aged 3-10, starts at £15 and consists of three sets of matching bedding and six sets of children's pyjamas inspired by Roald Dahl stories, worlds and characters.
Whether travelling the world from their room like Matilda, being inspired by the greatest chocolate maker on earth in Charlie and the Chocolate factory or enjoying a Fox's Feast, like Fantastic Mr Fox, the collection will bring books to life in children's bedrooms up and down the country with matching bedding and pyjama sets. Three additional sets feature designs from the Enormous Crocodile, everyone's favourite friendly giant, the BFG and the Witches.
The new launch with Very and The Roald Dahl Story Company, will support charity partner Coram Beanstalk to help thousands of children across the UK gain their reading confidence through fun and inspiring one to one sessions. As children return to school in September, Coram Beanstalk and their volunteer reading helpers are needed more than ever, especially as children's education has had a lack of stability over the last two academic years.
Carly O'Brien, Chief Marketing Officer at The Very Group said: "We are excited to be working with The Roald Dahl Story Company in our continuing work with our charity partner, Coram Beanstalk. The distinct style of Roald Dahl stories is globally recognised, it made perfect sense to work together and drive donations for a much-needed charity in Coram Beanstalk after two academic years of disruption for children."
Amy Lewis, Head of Coram Beanstalk, commented: "The work that we do is vital to help children read, have fun and ensure it becomes a favourite activity. This is why we're so pleased to have collaborated with Very and The Roald Dahl Story Company on this charity collection – raising important money through a favoured bestseller makes perfect sense to us!"
*All profits (at least 30% of the purchase price) from the sale of each item is donated to support Coram Beanstalk, Very's charity partner.