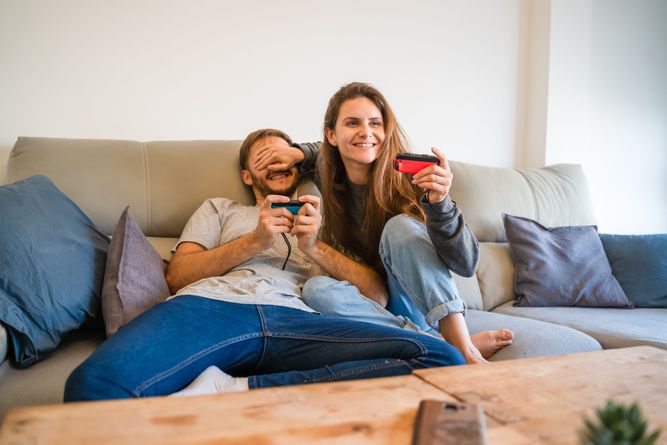 Media
Games consoles, hot tubs and Lego among the UK's most searched for pandemic products
April 1, 2021
New data shows games consoles are the most searched for non-food retail items since the start of the pandemic in the UK, as gamers raced to bag the latest launches and families strived to stay entertained while at home, according The Very Group, operator of Very.co.uk.
The online-only retailer, which sells everything from dresses and TVs to beds and toys, has compiled a list of the 20 most searched for products on Very.co.uk since the first national lockdown began on 23 March 2020, with games consoles – including PS5, Xbox Series X and Nintendo Switch – taking the top spot.
Entertainment, home improvement and keeping fit
The best in gaming were closely followed in the search table by TVs (2) and iPhones (3), but entertainment wasn't the only thing on UK families' minds during lockdown. Customers wanted items to keep themselves occupied in the garden too, searching for garden furniture (13) and trampolines (14). And they didn't neglect the inside of the their homes either, with curtains (6), wardrobe (11), vacuum (12) and wallpaper (18) also featuring in the table.
Unsurprisingly, staying fit during lockdown was a priority too – even if we only had an hour's exercise a day during some months. Nike trainers (5), smartwatches, including Apple Watch (10) and Fitbit (17); and treadmills (20) are all included in the most searched for items.
And a special mention for a classic: Lego's enduring popularity, boosted by a range of product launches, continued into lockdown. It reached number eight in the most searched for league table. L.O.L surprise toys – in 16th position – also continued their popularity.
Bubbling demand
There were some dramatic swings in search demand as soon as the pandemic struck. During the week of the first national lockdown announcement, searches referencing garden DIY terms surged 2,941% compared to the week prior.
Meanwhile, a lockdown favourite started to bubble up. Searches referencing hot tubs – which reached number nine in the most searched list – increased by 663% during the week of the first lockdown, compared with a week earlier.
And thoughout the pandemic, remote working remained an important theme as the Government urged the public to work from home if possible. Since 23 March 2020, searches relating to home office, such as 'office', 'printer' or 'desk', were up 186% compared to the comparable period a year earlier. And it's this appetite that saw laptops reach number four in the most searched list and desks reach number 15.
Meanwhile, with hairdressers closed for much of the pandemic, many of us have been channelling our inner stylist, often with mixed results. Since the start of the first lockdown, searches relating to at home hairdressing, including terms like 'clippers' or 'hair dye', were up 551% compared with the same period a year earlier.
Light at the end of the tunnel
The Prime Minister's 'road map' announcement on 22 February 2021, which outlined gradual plans to reopen the country, was another trigger for a change in search trends.
In the week immediately following the announcement, the nation turned its mind to children returning to school. Back to school related searches, including terms such as 'school' and 'uniform', surged 321% compared to the previous week and 136% on the same week in 2020.
Sam Perkins, managing director, retail, at The Very Group, comments:
"These results lay bare our pandemic priorities, as well as some interesting changes in what we've all been searching for. In almost every case – from consoles and hot tubs to TVs and garden furniture – we've been looking for things to improve the stay-at-home experience during lockdown.
"When you mix two huge and highly anticipated console launches with a nation that's stuck indoors, gaming was always likely to top the table. However, some trends are perhaps more surprising, like the dramatic upturn in appetite for hot tubs or the sudden increase in searches for curtains.
"But it can all turn on one announcement, just as we saw on 22 February 2021. Suddenly, UK families focused on back to school and have now turned an eye to what they'll wear when they finally do get to socialise with friends.
"Following the successful vaccine rollout and the gradual lifting of restrictions up to the summer, we expect search and buying patterns to begin returning to their pre-pandemic norms, which will likely benefit fashion, in particular, with more of us socialising."
Top 20 most searched for items on Very.co.uk from 23 March 2020 to 26 February 2021
| 1 | Games console |
| --- | --- |
| 2 | TV |
| 3 | iPhone |
| 4 | Laptop |
| 5 | Nike trainers |
| 6 | Curtains |
| 7 | iPad |
| 8 | Lego |
| 9 | Hot tub |
| 10 | Apple watch |
| 11 | Wardrobe |
| 12 | Vacuum cleaner |
| 13 | Garden furniture |
| 14 | Trampoline |
| 15 | Desk |
| 16 | L.O.L Surprise |
| 17 | Fitbit |
| 18 | Wallpaper |
| 19 | Airpods |
| 20 | Treadmill |