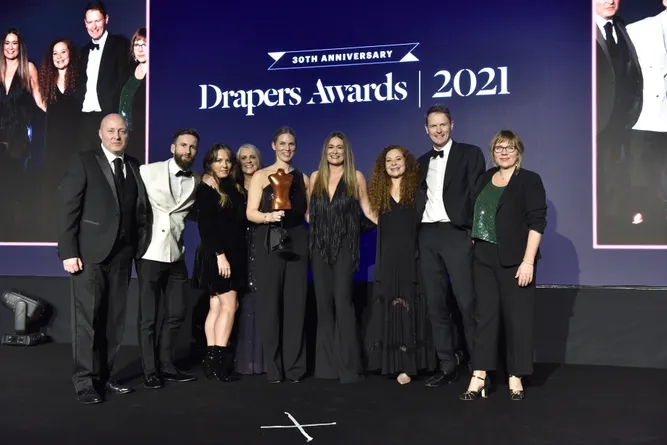 Media
The Very Group wins Pureplay & Team of the Year Drapers Awards, with Henry Birch crowned Leader of the Year
November 19, 2021
The Very Group named Pureplay of the Year
Fashion team awarded Team of the Year
CEO Henry Birch crowned Leader of the Year
The Very Group, which operates Very.co.uk, was named Pureplay of the Year and its fashion team was crowned Team of the Year at the Drapers Awards 2021 last night (18 November). Bringing home a third award for the online retailer was CEO Henry Birch, who won Drapers' Leader of the Year award.
The prestigious black-tie event, now in its 30th year, took place at London's Hilton Park Lane Hotel and saw Very's name in lights alongside other winners including JD Sports, Barbour, H&M and Zara. Drapers said Very 'stood out' on the night for its multiple award wins.
Henry Birch, CEO of The Very Group, said: "I couldn't be prouder of everything we've achieved as a business, and more importantly as a team, over the last couple of years. Receiving this recognition among our peers was the icing on the cake.
"I'm honoured to be named Leader of the Year by Drapers, but above all I want to say thank you to the amazing Very team that I'm lucky enough to lead. With the market and customer behaviour continuing to move towards our model, I'm excited for what we'll accomplish together in the future."
Emma Alexander, fashion director at The Very Group, commented: "The pandemic highlighted more than ever that Very's fashion team stands out for its camaraderie, commitment, perseverance, and unshakable resilience, without which the business would not have delivered such strong results. Having our work recognised by Drapers was a very special moment. I'd like to say a huge thank you to every member of the team for the part they played in getting us to where we are today."
The Very Group was also shortlisted in two other categories: Best Marketing Campaign, for the 'All about your bottom half this Very moment' denim campaign; and Rising Star, for junior buyer Stephanie Clarke.
Notes to editors
The Very Group is a unique digital business that combines retail and flexible payments to bring 2,000 desirable brands within easy reach of more customers. Our family of digital retail brands, led by Very.co.uk and supported by Littlewoods.com and LittlewoodsIreland.ie, has combined annual revenue of £2.3bn.
Our team of passionate people has a shared purpose: making good things easily accessible to more people. We're here for the millions of online shoppers across the UK and Ireland – and especially for families on a budget. Across electrical, home, fashion and more, we sell everything our 4.8 million customers could need, except food. And our flexible payment options, which are provided responsibly via our Very Pay platform and regulated by the Financial Conduct Authority, help our customers manage their household budgets.
We have over a hundred years of history behind us, but at our heart there is a passion for change – to constantly improve what we do, to innovate with data and technology at our core and to be the best possible place to work.
For more information, visit our website or follow us on LinkedIn, Twitter and Instagram.