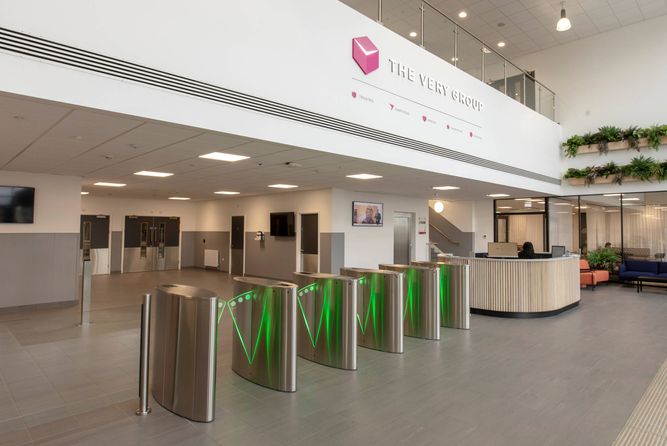 Media
Blog: The sky's the limit at our new fulfilment centre
February 4, 2020
Our Greater Manchester fulfilment operations supported The Very Group on the journey from catalogue business to one of the UK's largest digital retailers and we're proud of the role they've played in our success.
However, we knew that to continue meeting customer demand, we needed a new, purpose-built and automated facility in a well-connected location, with room for future expansion. The decision to relocate our fulfilment operation to East Midlands Gateway was a difficult one, but ultimately right for our business.
Progress is moving full steam ahead and the site, called Skygate, will soon be fully operational. The central UK location, adjacent to the M1 and East Midlands Airport, means we'll increase next day delivery cut-off from 7pm to 10pm immediately and, later, to midnight. We'll explore same day delivery in the future. Skygate's location and the rail freight terminal at East Midlands Gateway will save us around one million road miles a year.
Best-in-class automated technology, including automated item selection, advanced picking, single and multi-order automatic packaging and automated sortation capabilities, means products will go from order to despatch in just 30 minutes. We have space for expansion and optionality for future innovation through the flexible technology we've selected. Combined with the consolidation of three sites into one, this will contribute up to £25m in efficiency savings per year from 2021.
Access to talent was another factor in our decision and we'll make a real economic impact in the East Midlands by hiring 500 permanent colleagues, joined by 200 to 300 agency colleagues during peak. The employee proposition we've created sets us apart from the competition and we want colleagues to be multi-skilled, own their work and feel empowered to share ideas. Wellbeing facilities include an all-weather multi-use games pitch, fitness centre and high-quality restaurant with hot and cold food available 24/7. A flexible approach to weekly hours and shift patterns will give colleagues choice on how to balance work and home life. Skygate's size and scale offers significant potential for expanding our capabilities, and therefore further recruitment, as our business grows.
We already have vast experience of online retailing and will build on this with the opportunities that our new distribution centre presents. The location, state-of-the-art automated solutions and long-term partnerships with expert service providers means we've created a platform that will serve us well as digital retail and logistics evolve. The sky really is the limit at Skygate.