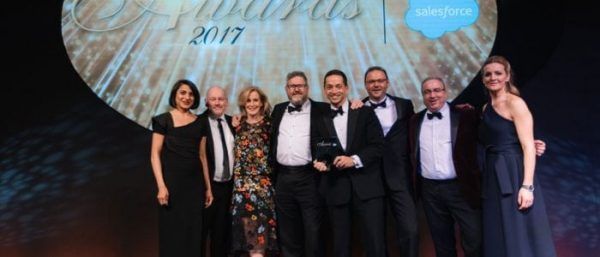 Media
Shop Direct wins Retail Week's best pureplay for third consecutive year with Baldock crowned leader of the year
March 10, 2017
Shop Direct last night (9 March 2017) became the first company to win the OC&C pureplay etailer of the year three times in a row at the Retail Week Awards 2017, the industry's equivalent of the Oscars.
CEO Alex Baldock was also crowned the Clarity retail leader of the year to cap a great night for the UK's second largest pureplay, which counts Very.co.uk and Littlewoods.com amongst its digital department store brands.
The Retail Week Awards 2017, which attracted over 1,600 attendees from across the industry, were judged by a panel of sector heavyweights including leaders from Debenhams, IKEA and Karen Millen.
They praised the company for doing 'pioneering things' and entering the digital era 'in style, going further than almost any business' as it scooped the award for best pureplay.
The judges also celebrated Baldock for 'the tough choices' he has made during Shop Direct's transformation as he picked up the award for retail leader.
Alex Baldock said: "To have the strong, innovative and successful business we're building recognised by our peers is a massive compliment.
"And to win best pureplay etailer for the third time in a row shows we're becoming the world class digital retailer we're striving to be.
"I'm honoured to be recognised as leader of the year, but it's the strength of our entire team that's driven our success. This is our award.
"We've had another fantastic 12 months, but we've only scratched the surface of what's possible.
"Over the next 12 months, AI will start to change the game for us, from personalisation through to credit; V by Very will become a £200m brand, and we're making a big investment in building a digital workplace fit for the future.
"It all adds up to another year of growth and innovation – and we can't wait for what's next."
-ENDS-
CONTACT INFORMATION
Shop Direct
Dave Lafferty
Corporate Media Relations Manager
0844 292 2738
07552 283 266
ABOUT SHOP DIRECT
Shop Direct is the UK's second largest pureplay digital retailer, with annual sales of almost £1.9 billion. Our digital department store brands are Very.co.uk, Littlewoods.com, VeryExclusive.co.uk and LittlewoodsIreland.ie. We receive an average of more than 1.2 million website visits every day, with 68% of online sales completed on mobile devices.
We exist to make good things easily accessible to more people. With our department store range of famous brands, market-leading ecommerce and technology capabilities and unique financial services products offering flexible ways to pay, we're well placed to deliver on that promise.
We sell more than 1,300 famous brands, including big name labels and our own exclusive brands. We have four million customers and deliver 49 million products every year. Our free click and collect service, Collect+, delivers to 5,800 stores across the country, increasing ease and convenience for customers.
For more information on Shop Direct, visit www.shopdirect.com or follow us on Twitter at @ShopDirect.