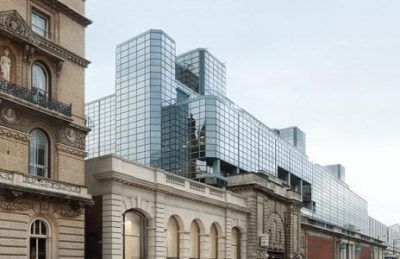 Media
Shop Direct to open London hub in 2017
November 15, 2016
Shop Direct, the UK's second largest pureplay online retailer, has announced plans to open a London hub at 111 Buckingham Palace Road, which will host colleagues working across data, eCommerce, IT, product and brand.
The 25,000 sq ft space, which will open in summer 2017, will have capacity for up to 250 colleagues. The workforce will comprise a mix of new hires, existing colleagues, and some who will split their time between London and the company's head office in Liverpool.
Shop Direct – which operates online department stores including Very.co.uk, Littlewoods.com and VeryExclusive.co.uk – has engaged award-winning interior design specialists, SpaceInvader Design, to help create an environment that embodies the company's values and ambition to become a world class digital retailer.
The hub will be a digital workplace full of purpose and passion that reflects Shop Direct's continued focus on m-commerce and personalisation, enabled through cutting edge technology, its unique data asset and collaborative, agile working practices.
The London hub will play an important role in delivering and maximising some of the company's landmark growth initiatives. These include its investment in advanced analytics, machine learning and artificial intelligence, the continued development of advanced IT capabilities, and the expansion of its brand roster and recently launched own label, V by Very. It will also be the new home of the VeryExclusive.co.uk team, who are currently based in Shop Direct's Pollen Street showroom.
The announcement follows Shop Direct reporting in September a fourth consecutive year of record sales and underlying pre-tax profit (PBT) in the 53 weeks to 30 June 2016. The group grew underlying PBT by 43.6% to £150.4m and sales by 4.3% to £1.86bn, with 62% of online sales originating from mobile devices during the period (2015: 56%).
Alex Baldock, group CEO at Shop Direct, said: "We need to keep innovating to meet the ever-changing needs of our customer. That's why we're opening this fantastic new hub. The new space will reflect everything we stand for and are striving for.
"It'll help us attract even more of the best people and get even closer to our existing partners, as well as forge important new partnerships. But above all it'll be a place where our colleagues will have the space and facilities to thrive, delivering new innovation every day to help us continue making good things easily accessible to more people.
"There's lots of work to do before we open, but I can't wait to see the collaborative, digital workspace we'll create."
ENDS
CONTACT INFORMATION
Shop Direct
Lauren Young 07919 228 622
Dave Lafferty 07552 283 266
ABOUT SHOP DIRECT
Shop Direct is the UK's second largest pureplay digital retailer, with annual sales of almost £1.9 billion. Our digital department store brands are Very.co.uk, Littlewoods.com, VeryExclusive.co.uk and LittlewoodsIreland.ie. We receive an average of more than 1.2 million website visits every day, with 62% of online sales completed on mobile devices.
We exist to make good things easily accessible to more people. With our department store range of famous brands, market-leading ecommerce and technology capabilities and unique financial services products offering flexible ways to pay, we're well placed to deliver on that promise.
We sell more than 1,300 famous brands, including big name labels and our own exclusive brands. We have four million customers and deliver 49 million products every year. Our free click and collect service, Collect+, delivers to 5,800 stores across the country, increasing ease and convenience for customers.
For more information on Shop Direct, visit www.shopdirect.com or follow us on Twitter at @ShopDirect.